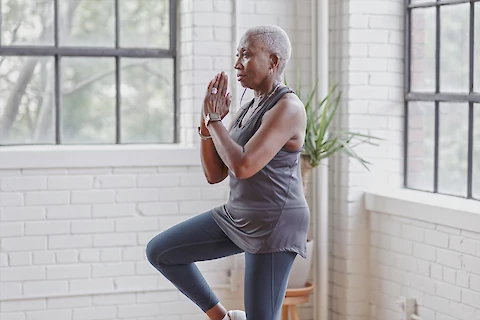 As we get older, keeping our balance becomes more important for our physical and mental health. Balance can help seniors avoid falls and other injuries that are common and debilitating. By doing daily balance exercises, seniors can improve their stability, lower the risk of falling, and increase their overall mobility. Let's explore how to include balance exercises in your daily routine and stay safe while doing them.
Safely Start Balance Exercises
Before starting a new exercise routine, always talk to a healthcare professional to make sure the activities are safe and suitable for your current fitness level. Once you have the green light, begin with simple exercises that can be done at home. As your balance gets better, you can make the exercises more challenging. When doing balance exercises, it's helpful to use props for support if needed, like a sturdy chair, countertop, or wall that can be easily reached during the exercises.
Balance Exercises
Here are some balance exercises seniors can add to their daily routines:
Single-leg Stands
Stand next to a wall or chair for support, and lift one foot off the ground while keeping your knee bent. Hold for 10-15 seconds, then switch legs.
Heel-to-toe Walking
Walk in a straight line, placing your heel directly in front of your toes with each step. Use a wall or chair for support if needed.
Side Leg Raises
Stand next to a wall or chair for support, and lift one leg out to the side as high as possible without leaning to the opposite side. Lower the leg and switch sides.
Back Leg Raises
Stand next to a wall or chair for support and slowly lift one leg straight back behind you as high as possible without arching your back. Lower the leg and switch sides.
Sit-to-stand
Begin seated in a chair with your feet flat on the ground. Lean forward and push through your heels to stand up. Slowly lower yourself back into the chair and repeat.
Adapt Exercises for Individual Needs
Different fitness levels can be accommodated by modifying or adapting balance exercises as needed. For those with limited mobility, seated exercises can still help with balance and stability. Additionally, using a chair or wall for support can make exercises more accessible for those who need extra stability.
Adjusting the length or intensity of exercises is another way to make balance workouts more suitable. You should start with shorter sessions and slowly increase the time spent on balance exercises to ease into the new routine.
Senior Helpers Tampa Provides Personalized Care
Including daily balance exercises in your routine is an investment in your long-term health and well-being. It's important to consult with a healthcare professional and find appropriate resources, but the benefits of improved stability, reduced risk of falls, and better mobility are well worth the effort. If you or a loved one in Tampa, Hillsborough County, Lutz, or Odessa needs help with adding balance exercises to your daily routine, contact Senior Helpers Tampa for personalized guidance and support.