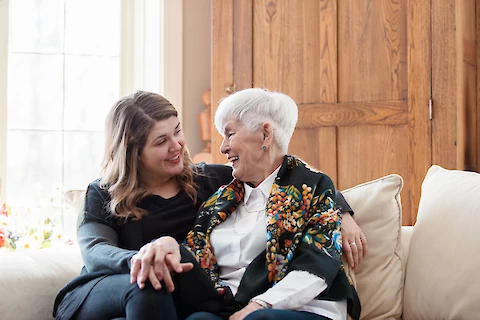 Mother's Day is a special time for seniors, as it offers a wonderful opportunity to reflect on the joys and challenges of motherhood, as well as to connect with loved ones. Every senior can find a way to make this special day resonate with them, creating new memories and celebrating the bond between mothers and their families. You can pursue some of these ideas:
Reminiscing About Their Own Experiences as Mothers
A trip down memory lane can be a delightful way to celebrate Mother's Day for seniors. Share stories and experiences with loved ones, whether through in-person gatherings or phone and video calls. These conversations can help bring families closer together, as well as provide valuable lessons and insights for younger generations.
Creating memory books or scrapbooks filled with photos, letters, and memorabilia can also be an excellent way to honor one's journey as a mother. Invite grandchildren or adult children to participate in the process, making it a bonding activity that strengthens family connections.
Creating New Traditions With Grandchildren or Adult Children 
Why not start a new Mother's Day tradition, tailored to your unique interests and abilities? Hosting a Mother's Day brunch or tea party can be a delightful way to spend quality time with family members. Adapt recipes to accommodate any dietary restrictions or preferences, and add festive touches like fresh flowers to decorate the table.
If you prefer the great outdoors, visit a local park or botanical garden or take a leisurely walk or wheelchair stroll. Breathe in the fresh air and enjoy the beauty of nature while creating lasting memories with loved ones.
Engage in a shared craft, hobby, or activity that you and your family members enjoy. Whether it's painting, gardening, cooking, or baking, these shared experiences can foster deeper connections between generations. Alternatively, watch a beloved movie or attend a local theater performance and discuss it afterward.
Connecting Virtually With Loved Ones Who Are Far Away
With technology at our fingertips, distance is no longer a barrier to celebrating Mother's Day together. Use video chat platforms like Zoom, Skype, or FaceTime to schedule a virtual family gathering. Share photos and fond memories through social media platforms or email to keep the connection strong. Sending thoughtful gifts or cards through the mail is another heartwarming way to express your love for a mother who's far away but always close at heart.
Participating in Local Events or Activities
Mother's Day events and activities abound in your local community. Attend a special event hosted by a senior or community center or visit a special Mother's Day church service. Local attractions like museums, art galleries, or theaters may have special events or exhibits tailored to Mother's Day.
Ensuring Self-Care and Relaxation on Mother's Day
Self-care should be part of any Mother's Day celebration. Treat yourself to a spa day at home or at a local spa, read a favorite book, or watch a favorite movie to unwind and relax. You can take some time to reflect on your personal growth and accomplishments as a mother and connect with other mothers in your community or support network to share experiences, laughter, and advice.
Senior Helpers Tampa Can Help Seniors Celebrate Mother's Day
There are countless ways for seniors to celebrate Mother's Day and create unforgettable memories. We encourage you to explore these ideas and find the one that resonates with you most personally. For those living in Tampa, Hillsborough County, Lutz, and Odessa, Senior Helpers Tampa is here to offer support and assistance in making Mother's Day special for the seniors in your life. Contact us today to learn more about our services and how we can help make this Mother's Day a memorable one.