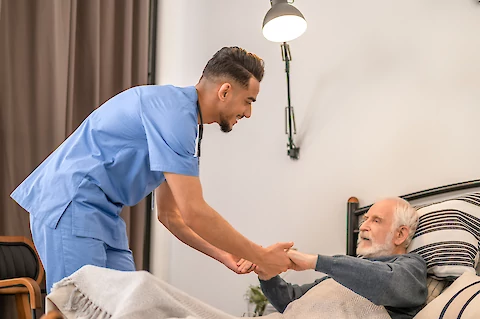 Finding the right care provider for your elderly loved one and ensuring their happiness, comfort, and safety can be a daunting task, especially in today's healthcare market. There is no "one size fits all" approach to senior home care services, as each person will have different needs that must be taken into account. If you're looking for an affordable senior home care service provider near you, try the strategies discussed further in this article. 
The Benefits of Senior Home Care Services
Senior home care services are designed to keep elderly individuals living independently in their own homes as safely and comfortably as possible. This type of care is typically more affordable than nursing homes and assisted living facilities, but it still offers many of the same amenities. For example, depending on the services you choose, you can get 24-hour supervision if needed. In-home care can also provide assistance with everyday tasks like bathing, dressing, grooming, meal preparation, transportation, medication management, and much more.
Regular visits from an experienced caregiver can provide invaluable companionship for those who may not otherwise have someone to talk to or engage with. Having a trained professional look after your loved one in their own home also means there's less disruption for them if they need medical attention or have an accident. 
Lay Out Your Budget
When researching options for affordable senior home care services, it's important to consider your overall budget. Having an understanding of what you can afford before you begin your search will save time and effort in the long run. Be sure to research available payment options, including using private insurance or government-funded programs to help cover your costs, before you decide whether you can afford in-home care for a senior loved one or what that might need to look like for your family.
Research Your Options
The next step in finding the right senior care provider for your loved one is researching your options. Start by searching online for reviews and ratings of local home care organizations as this can help you narrow down potential providers. Additionally, contact each individual organization or agency to ask questions about their services, payment and financial assistance options, licensing and accreditations information, etc. 
Before you select a provider, find out what services they offer. Make sure that the care provider you're considering offers the services you really need. For example, if you know that your loved one will need overnight care, but the senior care provider you're considering works set hours during the day, you might find that they aren't the care provider for your family. 
Find Affordable Senior Care Services in Sun City
If you're looking for affordable senior care services in Ruskin, Wimauma, Apollo Beach, Sun City Center, Riverview, and Gibsonton, Senior Helpers Sun City can help. Contact us today to discuss the care options we can provide, including respite care options, overnight care, and assistance with daily tasks. We have options that fit many different budgets and needs, increasing the odds that you will find a solution with the best possible standard of care.