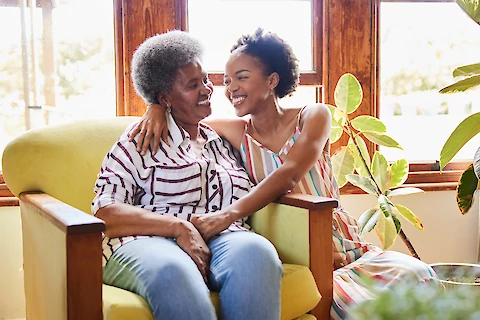 Seniors need to receive meaningful visits from family and friends, but making sure the visit is authentic and not patronizing should be a key factor in planning out time spent together. If you're concerned that your visits may appear forced or part of an obligation, take these key details into account as you plan your visits. 
Reasons to Visit with an Elderly Loved One
There are several great reasons you may find to check in with an elderly loved one. 
To Share Memories and Stories
Taking time to nourish your relationship with your senior loved one means slowing down, getting off your devices, and focusing on the moment. You need to consciously make the effort to ask questions about their life so you can learn more about them and the lives they've lived, and even pass some wisdom down to younger generations. Try looking for a topic that interests you both and start from there. 
To Offer Needed Assistance with Tasks
Visiting elderly relatives is also a great opportunity to lend a helping hand! Whether it is making grocery runs or doing household chores they may no longer be able to tackle alone, help out around the house where you can in order to lend a kind gesture of support. A regularly-scheduled visit to help with those tasks can go a long way toward giving you an excuse to visit and check-in. 
To Share a Meal
Eating meals together creates an opportunity for seniors who may not have had visitors recently or had the opportunity to socialize much to connect with friends and loved ones. It's one of the best times to trade stories with them, check in with how they're feeling, and simply share a moment with them. 
To Share Exciting Life Events
You should also visit elderly relatives when there are milestones, celebrations (like birthdays), and fun activities (like holidays). Come by to visit when you have big things to share. Talk about the details of your life. Or make excuses to come by for holiday celebrations or get-togethers. Those simple connections can make a world of difference. 
Avoiding Patronizing and Contrived Visits
There are several things you can do to avoid patronizing and obviously staged visits with a senior loved one. 
Respect Personal Space
Respect your elderly relative's wishes with regard to their comfort level. Don't stay too long, or assume they want a hug if they don't make that clear themselves. Pay attention to their desires even if it doesn't seem to fit with their current physical condition or needs. Then, find a middle ground that you'll both be comfortable with.
Acknowledge Personal Preferences
It can be easy to plan out a complete visit agenda in advance, but always acknowledge and respect the fact that your elderly loved one may have different views on what they'd like to do while you're together. Consider ways to incorporate fun activities but make sure it's something both of you will enjoy together.
Avoid Unsolicited Advice or Taking Over
Many visitors feel tempted to take over or give unsolicited advice during visits. Many seniors, however, do not appreciate those things and may grow very frustrated by them. Instead, simply offer help and support. 
Listen and Engage
Show genuine interest in whatever stories your loved one has to tell. Taking photos for the family scrapbook is also another great way to soak up all their stories so don't forget the camera! Remember that when you visit, you're there to actively engage with your loved one. That means aiming for connection, not just stopping by to check the fridge or do a couple of chores.
Offer Help
Your elderly relative might need assistance with shopping, paying bills, cleaning tasks, home maintenance, and more. Offer polite assistance on a regular basis. Make it part of your routine--but not just another chore that has to be checked off the list. Instead, provide genuine offers of help that reflect what your loved one really needs. 
Professional Visits Can Help Senior Loved Ones
Sometimes, visits from friends and family members may no longer be enough to provide all the assistance a senior loved one needs. Fortunately, for seniors in Lake Worth, Boynton Beach, Delray Beach, and Atlantis, Senior Helpers South Palm Beach is here to help. Contact us today to learn more about our companionship services and in-home care options for seniors who may need more assistance with daily care.