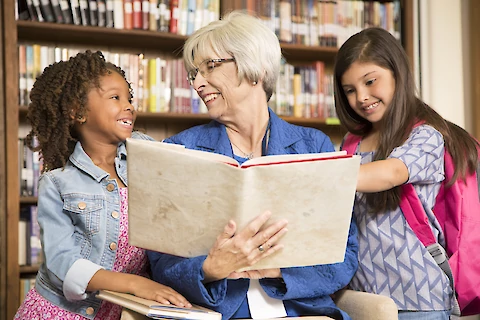 Guide to Volunteering at Schools and After-School Groups for Seniors
When people enter the workforce, they're noting the expected accomplishments that will come with it. Then, once they've been in the workforce for a while, they may find themselves looking forward to retirement. Once retirement occurs, these same people may be wondering: "What was I thinking?!" Some recently retired seniors may be wondering what to do with that free time and want to put it to good use, such as volunteering at schools and after-school groups with kids. Here are some great opportunities and how to start.
Volunteering at Schools
Seniors with a teaching background may be interested in volunteering at schools through the Volunteer in Public Schools program, which began in 1972. In Palm Beach County District schools, volunteer hours equaled approximately $25 million in recent years. Further, the greatest intrinsic value derived is the encouragement provided to students, leading to improved self-esteem and confidence. The easiest way to start volunteering at a South Palm Beach school is to contact the school and ask.
Volunteering at After-School Programs
Many after-school programs take place in community libraries. This means that seniors that love to read may find opportunities to volunteer with programs for kids in their local community library. By volunteering at a local community library, seniors have the opportunity to engage with children of all ages, teach about the joy of reading, and expand their imaginations, all while building lasting and meaningful relationships.
Volunteering for Kids' Organizations
Seniors that love working with kids and with animals should consider volunteering for the local 4-H Club with Palm Beach County's Park & Recreation. Seniors can volunteer for specific activities as a one-time volunteer or on an ongoing basis. It's possible that volunteer activities be local or involve traveling, depending on preferences and volunteer needs. This opportunity would be great for seniors with farm animal experience, such as sheep, cows, chickens, or pigs. Another option umbrellaed under this opportunity is to volunteer to help care for animals. While this doesn't involve directly working with kids, it does involve helping the organizations that cater to kids.
Start Volunteering at Schools and After-School Groups!
Seniors looking for ways to stay active in their communities often turn to volunteer. The opportunities for volunteering in schools, libraries, and the 4-H club are great for these two generations to interact. To start volunteering, contact the school or organization of interest. They will have a form for their potential volunteers to fill out. Be prepared that many opportunities will require a background check. Information will be asked about the age range of interest, experience, and activities of interest.
There are many more opportunities for seniors to help in South Palm Beach and surrounding areas as volunteers for different organizations that cater to kids. These opportunities don't just benefit the kids, but also the adults through mutual interactions. To learn more about Senior Helpers in South Palm Beach, visit our website to discover services and opportunities in the area.