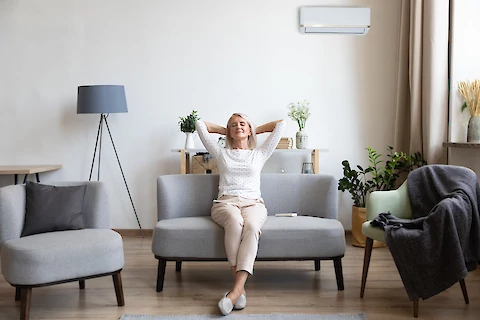 It's the festive season, and with it comes a lot of fun. But it also means that you'll be spending more time indoors. According to U.S EPA, most Americans spend 90% of their time indoors—and that's where most air quality problems originate. Air quality might be affected by using gas heaters, sweaters with more fibers, dust particles, snow, and even pets. And while there are plenty of ways to improve indoor air quality, these tips will help ensure home air is as clean and fresh as possible when the weather changes.
Maintaining HVAC for Better Indoor Air Quality
Check the air conditioner regularly to ensure it is in good condition. The filters in HVAC are responsible for their efficiency. The U.S Department of Energy advises maintaining HVAC every 2-3 months.
Cleaning Vents
Without HVAC in context, air ventilation is processed through the vents naturally. Dust and dirt can block ventilation systems and create moldy odors. Before turning on the heat or close up for the season, it is advisable to take a quick look around the vents in the home to make sure they're clear.
Maintaining Home Cleanliness
A home should be a place of tranquility. Agents dust, mites, and other particles can make allergies worse by causing inflammation in the nose and throat. If there are pets, it is advisable to ensure they're always clean because they can shed fur all over the furniture and carpets (which can then transfer onto humans).
Using an Air Purifier to Improve Indoor Air Quality
Using an ionizer or humidifier in the house helps keep the air moist and dry out any particles lingering in the air after it rains or snows outside. Air purifiers come in all shapes and sizes, but they're worth every penny because they can remove many different kinds of pollutants from the air around the house. It is recommendable to look for an air purifier with HEPA filters—they filter out 99% of airborne particles and germs like bacteria, mold spores, and viruses—so they're great at keeping away those small things that cause sneezing or coughing when the air has too much dust or pollen.
Keeping Windows Closed
Indoor air quality is mainly affected by the air that comes from outside. The atmosphere consists of tiny particles that build up in the house, which can ruin the air quality inside because it is little or no air circulation. It is advisable to keep the windows shut if the weather outside doesn't look so good.
Keeping the Environment Clean for Better Indoor Air Quality
Indoor air quality depends on the environment outside the house. Leaves and debris mainly inhabit the backyard on pavements. Thus, clearing outdoors and proper cleaning can improve indoor air quality by half.
Hire a Helper From Senior Helpers South Palm Beach
For senior loved ones, maintaining indoor air quality needs some extra hands. This could be mostly seniors living with chronic illnesses who may require assistance with daily activities. Senior Helpers South Palm Beach is a premier provider of in-home senior care in Lake Worth, Boynton Beach, Delray Beach, and Atlantis. Contact us to schedule an in-home assessment.