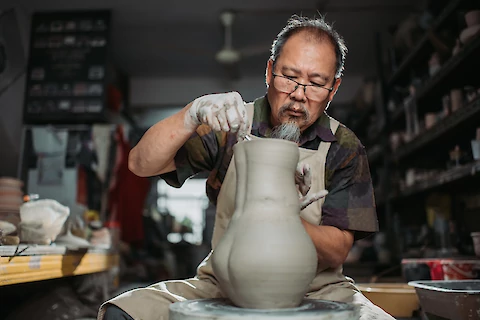 4 Ways Seniors Can Protect Their Eyes From Strain While Enjoying Hobbies
There are many benefits of seniors taking up a hobby. Hobbies can be a great stress reliever, keep seniors active, and can provide a sense of accomplishment. While partaking in a hobby regularly is beneficial, protecting the eyes from strain is important.
Here at Senior Helpers South Palm  Beach, we provide in-home care for seniors in Lake Worth, Boynton Beach, Delray Beach, and Atlantis. Read on to learn what seniors can do to protect their eyes from strain while enjoying hobbies.
Lubricate Regularly to Protect the Eyes
No matter what hobby you like to engage in, lubricating your eyes periodically can help minimize your risk of eye strain. Dry eyes are a big component of eye strain. Seniors can use artificial tears, also known as eye drops, to address dry eyes, which can do wonders for eye strain. In fact, regular lubrication can help deal with the symptoms and minimize the risks of straining the eyes. 
Be Sure to Have Adequate Lighting
Seniors should be sure to always partake in their favorite hobbies in the best lighting for their eyes. Many people don't realize how poor lighting can lead to eye strain, but it's important for seniors to have lighting that is bright enough so that they don't have a hard time focusing. With that said, it's best to do activities in the daytime and avoid activities with dim lighting to protect the eyes. 
Take Breaks Frequently
Even when engaging in your favorite hobbies, it's important to take frequent breaks. If you're experiencing eye strain, it may be time to give your eyes a rest.
Ultimately, engaging in any activity takes focus. But sometimes the eyes just need rest, especially if your eyes are dry or you're dealing with a low-light situation. Giving your eyes a break every 30 minutes or so can reduce eye fatigue and stain quite effectively.
Protect the Eyes With Regular Vision Checks
Everyone experiences eye strain every now and again, especially when the eyes are in challenging situations. But if you find that you continue to experience eye strain, even if you've implemented methods to minimize eye strain, it's best to get your vision checked. 
Vision problems can make it more difficult to focus your eyes because the eye muscles have to strain to focus. Three types of vision problems that make seniors more prone to eye strain include:
Farsightedness: Difficulties seeing objects up close.
Nearsightedness: Difficulties seeing things from a distance.
Astigmatism: Blurred, distorted vision.
With that said, if you haven't been diagnosed with a vision problem but continue to experience eye strain, it's important to visit an eye doctor. indeed, a doctor can provide you with a diagnosis and prevent any further complications to protect your eyes. 
Quality In-Home Care in South Palm Beach
Here at Senior Helpers South Palm Beach, we are committed to providing premier service of in-home care service for seniors in Lake Worth, Boynton Beach, Delray Beach, and Atlantis. We provide tailored home care services that range from companion care for seniors that need daily assistance to specialized care for seniors dealing with a variety of chronic diseases. Contact us today to get started.