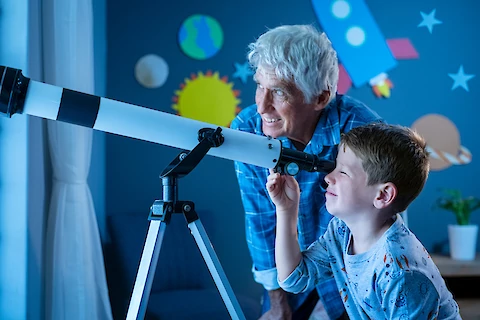 How small stars appear from our POV here on Earth is a humbling reminder of our vast universe. Our sun, for instance, is an average-sized star with a diameter of about 1.4 million kilometers (around 870,000 miles). Senior adults in your life who avidly follow the journeys of meteors, stars, and other heavenly masses will be excited with the advent of December as it's a month chock-full of extraterrestrial phenomena. One has to adequately prepare beforehand for a fulfilling viewing experience. Have your binoculars, telescopes, and astrophotography cameras tested, optimized, and ready for these astronomical events.
Senior Helpers has some great insights on this month's cosmic calendar for senior adults in the Lake Worth, Boynton Beach, Delray Beach, and Atlantis areas and the rest of South Palm Beach, Florida.  
1.  The Hyades Cluster
Taurus' triangular face is one of the closest open star clusters near us – about 150 light years from the sun. Its common name is The Hyades. It is also known as the "Rainy Ones" or the "Weeping Sisters." Within the cluster are several hundred stars. Around a half-dozen are visible under a moonless suburban sky, often as close pairs. Binoculars will be a big help to any serious senior stargazer.
Its five shiniest members - Delta 1 Tauri, Gamma Tauri, Theta Tauri, Epsilon Tauri, and Zeta 1 Tauri – are stars that can be seen with the naked eye and are only a couple of light years off each other. The bright, red giant star Aldebaran sits at the lower, southeastern vertex of the Hyades. This astral body is 65 light years away from earth and isn't part of the cluster.
On Sunday, 18th December, the Hyades will begin its ascent into the eastern sky early in the evening. It is expected to reach its zenith at 2300 hours.
2.  Northern Winter Solstice
The Northern Hemisphere's astronomical winter begins on Wednesday, 21st December, at 1648 hours EST, 1348 hours PST, and 2148 hours GMT. During this time, the sun will descend into its southernmost declination this year – the solstice. It'll result in the lowest elevation of the noon sun. It has the longest daylight for the Southern Hemisphere and the minimum daylight hours for the Northern Hemisphere.
This will be the longest night of the year. The moon will only be 18% illuminated. Seniors and other appreciators of the night sky should prepare themselves with the proper viewing equipment, a good viewing point, and some hot cocoa to keep the cold at bay. After the solstice passes, the North's daylight hours will begin to climb.
3.  Ursids Meteor Shower
The annual Ursids meteor shower runs from 13th to 24th December. This celestial event is caused by debris being dropped by 8P/Tuttle, a periodic comet. It's a short-duration shower. It will peak when the earth is cutting through the debris field's densest part on the afternoon of Thursday, 22nd December.
You'll be best placed to watch the shower before dawn on Thursday and after dusk later. Under ideal view conditions (beneath a moonless dark sky), the Ursids have a ZHR (zenithal hourly rate) of about ten meteors per hour. While the true Ursids will seem to move away from a point in the sky above Polaris within the Little Dipper, meteors can be seen anywhere in the sky.
Senior Helpers Can Make Your Holidays Stellar Aside From Gazing Stars
If you can live under dark skies away from city lights, you can find a comfortable spot in your garden or porch to watch these events undisturbed. City dwellers will have a tougher time, yet they can still improve their situation by turning house lights and other surrounding lights off to create a darker viewing environment.
December nights are chilly, and the grounds outside the home can get slippery; reach out to Senior Helpers to ensure your beloved elderly friend/relative has a warm, keen-eyed companion to help out with everything this season. Our premier in-home senior care services bring comfort to seniors in Lake Worth, Boynton Beach, Delray Beach, and Atlantis. Contact us today to learn more about our services and what we do!