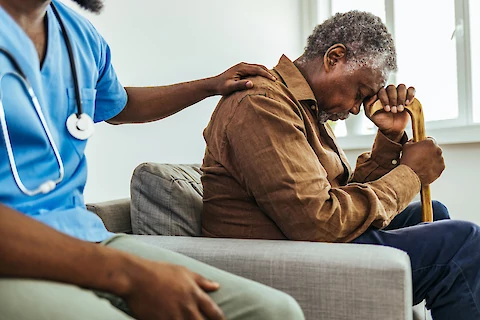 With a growing understanding of the causes of Alzheimer's and how it affects the body and the brain, we are getting new insights into how we can care for seniors living with Alzheimer's. Lifestyle improvements, habit changes, and symptom management could minimize their symptoms, enabling your senior loved one to age in place.
This article discusses the new 2022 insights you need to know to better care for your senior loved one or client in Riverview, FL.
Alzheimer's Cure Breakthrough
As brain neurons die, Alzheimer's symptoms get worse and could eventually lead to the senior being unmanageable at home.
Several treatments for Alzheimer's disease are in clinical trials. This year, the FDA approved a cure for Alzheimer's disease, Aducanumab. You can use it to treat some select cases of mild Alzheimer's by reducing the functional and cognitive decline of seniors.
Other medicines you can use to slow the symptoms of Alzheimer's include memantine, galantamine, rivastigmine, as well as donepezil.
Heart-to-Brain Connection
According to new research published in eLife, the brain's health is related to the heart's health. Some heart disease risk factors, such as high blood pressure, diabetes, and smoking cigarettes, are associated with a higher risk for Dementia. The connection goes both ways, and Alzheimer's can lead to cardiovascular issues.
Thus, you should keep the signs of a heart attack in mind. They include chest pain, dizziness or nausea, pain spreading to the arm, irregular heartbeat, as well as pain in the jaw or throat. But since not all heart conditions have the symptoms of a heart attack, have your senior client living with Alzheimer's see a cardiologist.
The earlier you notice these signs, the higher the likelihood of preventing severe conditions.
Dealing with Personality and Behavior Changes
Alzheimer's causes brain cells to die, leading to changes in behavior and personality. These changes include irritability, depression, anxiety, anger, aggression, agitation, hallucinations, sleep issues, etc. These changes can be stressful for a senior caregiver.
In fact, the best way to deal with these changes is not to try to stop them; learn to cope with them. Some of the things you can do to deal with the personality and behavior changes include:
Introduce a daily routine, so your senior loved one knows when something will happen.
Reassuring them they are safe and that you are there to help them.
Don't argue, try to reason, or show frustration or anger.
Use humor if you can.
Try introducing music, dancing, or art to distract them and improve their focus.
Remove them from triggering situations if the symptoms are triggered by their surroundings.
Create a calm environment.
Don't be afraid to ask for help from a professional if the personality and behavior change worsens.
Get your Senior Loved One the Care They Need
Seniors living with Alzheimer's need specialized care and monitoring. Even with the above new insights of caring for your senior loved one, it can be challenging to care for them if you aren't a professional.
If you have a senior loved one living with Alzheimer's in Riverview, Lithia, Valrico, Brandon, or Sun City Center, Senior Helpers can help you care for them. We are a team of caregiver professionals providing in-home care for all seniors, whether seeking companion care, surgery assistance, wellness watch, or living with conditions such as Dementia.
Our tailored home care services will also enable your senior loved one to age in place safely.
Contact us today to find out more about our in-home senior care services.