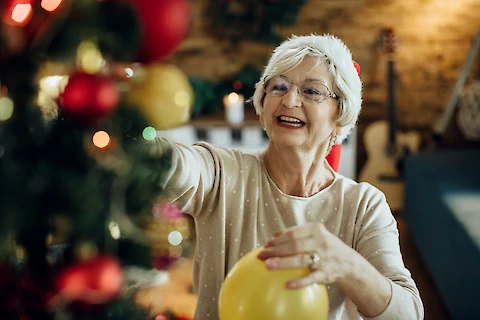 It's that time of year again when everything seems just a little bit more magical. Freshly cut trees take short and long journeys to their loving, new homes. Lights are strung throughout town, leaving the night sky with an abundance of twinkles. Stockings are hung from mantles, filled with anticipation of what might appear inside them. The holiday season is here and with it comes the overwhelming desire to decorate in celebration. Maintaining independence is important for many senior citizens. However, the ability to do this safely is often at the forefront of the minds of their loved ones. So once the holidays are over, how can seniors start storing holiday decorations?
This year, consider safer alternatives for storing holiday decorations. We have compiled some suggestions of better places that don't involve seniors lugging heavy boxes up and down a rickety ladder. However, if none of these options seem suitable, please remember that there is no shame in asking for help. It may even become a new family tradition.
In the Garage or Storage Shed
If a senior's home has a garage, that is an excellent place to consider when storing holiday decorations. Against a back or side wall, they can have a shelving unit placed to put bins and bags of decorative items. If wall space is scarce, there are also storage systems that hang from the ceiling of the garage that can raise and lower with a pulley system. These are both good options for storing decor without having to climb into a small attic space.
If there is no garage available, perhaps a storage shed would serve the same purpose. A few shelving units in the shed would also work as a place to store bins of various decor, in addition to any larger outdoor decoration items that may not fit in smaller storage areas.
In a Closet
For sentimental items and smaller decoration collections, it may be possible for seniors to store the items in their closets. Perhaps a spare room or hallway closet has a bit of extra space tucked away behind the door or wall of the closet where they can stash some items throughout the year. This is a good place for seniors who want to avoid the temperamental winter weather when digging out holiday decorations. They can rest assured that all of their items will remain in a temperature-controlled space and they won't have to risk climbing any ladders or experiencing the chill of the outdoors just to celebrate the holiday season.
Under the Bed
This is a great option for minimalist senior decorators. If a senior's bed frame is high enough, they can use bins that they can slide underneath the bed to store away out-of-season decorations. There are also bins with wheels to make sliding the decorations in and out even easier.
In the Basement
If a senior lives in a home with a basement, storing holiday decorations here is an option. However, it's important to be extra careful when navigating the stairs while transporting heavy and bulky items. This location is safer than an attic, but it is still important to use precautions when storing items. Shelving units would also be very useful for organizing items and avoiding clutter.
When in Doubt, Ask for Help
Even with safer storage options, there is still a risk of injury when pulling out large and heavy decoration items to decorate for the holidays. Asking for help is something that should be celebrated and not cause embarrassment. Perhaps consider making the setup and take down of decorations a new family tradition. Bake some cookies, drink some eggnog, and put the kids and grandkids to work.
If your family isn't close or is unable to help, perhaps you can enlist the help of a companion service. Senior Helpers Hillsborough County offers in-home senior care services to senior citizens in the Sun City Center, Riverview, Brandon, Valrico, Tampa, and Lithia areas. If you are interested in finding out if there is a service that meets your needs, please don't hesitate to contact us today. We look forward to working with you.
Happy (and safe) decorating!