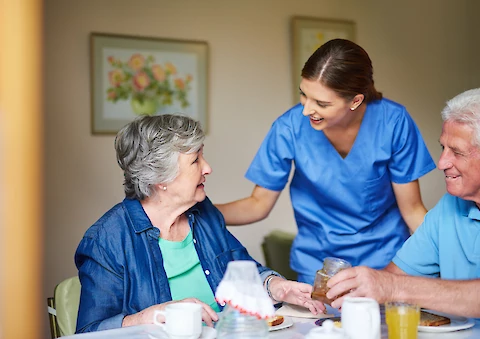 Signs Your Spouse Needs a Certified Caretaker (and Benefits for Both of You)
Caring for your spouse is one of the most important tasks you can do as a supportive partner. However, it can also get overwhelming especially if you have other things to do. So how will you know the signs your spouse needs a certified caregiver? And when should you consider someone to help?
Senior Helpers Hillsborough County is here to give you tips and advice to help determine when it's time to look into professional caregiving services. Read on to learn more about the signs that your spouse needs a certified caregiver and the benefits of having one in your home.
Signs Your Spouse Needs Help
While you may not want to admit it, there are some signs that it's time to bring in a professional. If you notice any of the following things happening with your spouse, a certified caregiver can be beneficial:
Difficulty with activities of daily living (such as bathing, dressing, or preparing meals) 
Falls or injuries due to weakened mobility/ balance
Forgetfulness or confusion with directions or instructions from people outside their family
Uncontrollable outbursts and difficulty dealing with stress
Poor hygiene or nutrition habits
They forget to take medications as prescribed
Changes in sleeping habits and/or personality
Benefits for Both You and Your Spouse
Having a certified caregiver come into your home has many benefits for you and your spouse.
Benefits for you:
Benefits for your spouse:
Increase in comfort level and emotional well-being
Access to medical services and mental health support if needed
Assistance with activities of daily living, such as bathing, dressing, as well as meal preparation
A sense of companionship and emotional connection to help combat loneliness or depression
Aging is a natural part of life, and it can bring about many changes in our bodies. As we age, our physical abilities may decline as well as cognitive function. This can make everyday tasks more challenging to manage on our own, and oftentimes loved ones are called upon to provide assistance with daily activities like grocery shopping or housekeeping.
While family members are usually willing to help out, sometimes professional caregiving services may be needed for longer-term support. With all these advantages mentioned above, it makes sense why so many families choose certified caregivers over other options.
Contact Senior Helpers Hillsborough County Today
Having a certified caregiver can be an invaluable asset for those who need extra medical attention and care. By recognizing the signs that indicate it is time for professional help, you can ensure that both you and your spouse get the support they need and deserve to live comfortably at home.
If you think that getting a certified caregiver might be beneficial for your loved one, contact Senior Helpers of Hillsborough County today. Our experienced team in Sun City Center, Riverview, Brandon, Valrico, Tampa, and Lithia can answer any questions you may have about our services, so don't hesitate to reach out.