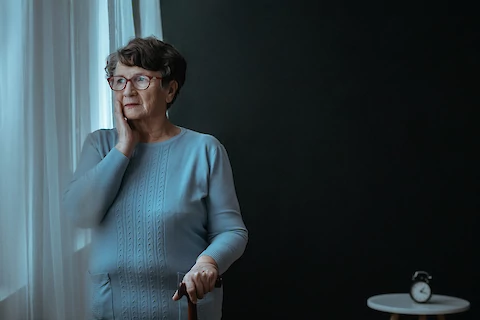 Mood changes are common, especially with the ever-changing times and seasons. Some people feel sad, which may occur due to seasonal changes. In some cases, mood changes affect how people think, feel and react. It can also affect productivity, especially for seniors.
If the symptoms listed below persist, one may suffer from a seasonal affective disorder. If you're concerned about your senior loved ones in Sun City Center, Riverview, Brandon, Valrico, Tampa, and Lithia, FL, it's good to learn about this condition and its symptoms. It will help you make informed decisions about how to care for your elderly loved ones and mitigate the potential effects that result from this disorder. Here is essential information about seasonal affective disorder.
What is Seasonal Affective Disorder?
Seasonal affective disorder (SAD) is a type of depression that can affect seniors in particular seasons. This condition begins and ends at about the same time every year. It is also known as winter-pattern SAD or winter depression because it is common in winter as seniors feel lower in mood and energy. Some seniors also experience depressive moments in spring and summer. This is known as summer-pattern SAD or summer depression.
Symptoms of Seasonal Affective Disorder in Senior Citizens
If a senior loved one seems to have mood changes during the winter, fall, summer, and spring months, it could be more than just the normal mood changes post-holiday blues. The condition is associated with a variety of symptoms, and this is why individuals may have varying signs. Here are several symptoms a senior loved one living with seasonal affective disorder may exhibit.
Spring and Summer SAD
Below are specific symptoms of seasonal affective disorder that a senior loved one may show during the spring and summer months.
Insomnia
Weight loss
Loss of appetite
Tearful and weepy
Feeling worthless
Highly irritable and short-tempered
Anxiety and feeling easily agitated
Fall and Winter SAD
Symptoms specific to fall and winter SAD in seniors may include the following.
Thoughts of not wanting to live anymore
Feeling guilty, worthless, and hopeless
Drained of energy and feeling weak
Oversleeping and not feeling like waking up
Uninterested in the things they previously loved
Feeling sad or down almost daily
Increased food cravings and overeating, leading to weight gain
If your senior loved one in Sun City Center, Riverview, Brandon, Valrico, Tampa, and Lithia is experiencing the above symptoms, it'd be best to speak to a primary care physician for a medical check-up and help. Symptoms may vary from one senior to another based on the season. The professional is the right person who can detect if the senior is living with seasonal affective disorder and can guide you accordingly. A primary care physician may ask various questions about the senior's mood changes, lifestyle, and other related questions. The doctor may recommend therapy and antidepressants.
The Bottom Line
Every senior citizen requires love and care regardless of what they may be feeling or going through. If you have a senior loved one you think could be living with seasonal affective disorder, seek medical help as soon as possible.
It's also essential to consider senior care from a professional who understands more about senior behavioral changes. Senior Helpers Hillsborough County offers in-home senior care for seniors who need companion care, daily assistance, and other specialized services in Sun City Center, Riverview, Brandon, Valrico, Tampa, and Lithia. Contact us for a free consultation.