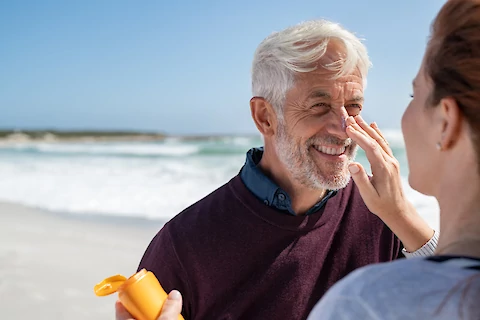 There is nothing like spending time outdoors in the sun, especially here in the Sunshine State. However, if you or your loved ones enjoy time outside, as we do, then sunscreen should be an important aspect of your everyday self-care routine. Here in the Lakeland, Winter Haven, and Polk County area knowing our sunscreen and knowing the type that is good for us, and for our loved ones, can make a tremendous difference in our skin health, and our overall well-being. Senior Helpers Polk County is dedicated to providing tailored home care services for your loved ones, including sun care. We have the knowledge and the information necessary to help you and your seniors to enjoy the sun and sand and our beautiful Florida weather safely.
Why is Sunscreen Important?
Sunscreen is important for everyone, including seniors. Now, more than ever, it is important to encourage the loved ones in your life to use sunscreen on a daily basis. Sunscreen will help to protect their skin from further sun damage, as well as prevent future damage. Sunscreen also will protect everyone from the pain and discomfort of sunburn and sun poisoning which can lead to skin cancer and permanent damage.
What is SPF and Why is it Important?
SPF, or sun protection factor, is a measure of solar energy, otherwise known as UV rays, that is required to produce sunburn on protected skin. Accordingly, as the SPF goes up, so does the amount of protection offered against sunburn by sunscreen. In addition, as a quick side note, time is not a factor in the strength or protective capability of sunscreen. It is the actual SPF that determines the strength of the sunscreen. There are influencing factors for SPF and sunscreen protection capability, however. These include the following:
skin type
the amount of sunscreen applied and the quality of coverage (were spots missed, etc.)
the frequency of reapplication
amount of time spent in the water or toweling off that occurs
The importance of protecting our skin, and that of our loved ones, can not be overemphasized. Senior Helpers of Polk County is here to help provide daily in-depth care for your seniors, including the protection of their skin.
UVA and UVB and Why They Are Important
UVA and UVB are two types of ultraviolet rays that are damaging to our skin. UVA rays penetrate deeper into our skin than UVB and are a major cause of skin damage and skin cancer. They also contribute to premature skin aging and wrinkle formation. UVB rays are the rays responsible for sunburns and skin cancer. Sunscreen can help to protect against both UVA and UVB rays, however, it is very important that you, and the people that you love, properly apply and re-apply the sunscreen to ensure maximum coverage and protection.
Positive Sunscreen Practices
Sunscreen is always a good choice for you and for seniors, especially here in Polk County, where the sun shines almost all year around. There are, however, practices that can make your sunscreen more effective for your everyday use.  These include the following practices:
Choose sunscreens that fulfill FDA's broad-spectrum requirements and can be labeled "broad spectrum."
Sunscreens that are waterproof for 40-80 mins at least and withstand being rubbed with towels.
Apply sunscreen 15-20 mins before going out into the sun so that it may soak into your skin.
Use sunscreen with a minimum of SPF 30 for daily use.
Reapply sunscreen at least every 2 hours.
Wear a hat and sun shirt if possible for long hours in the sun.
Sunscreen is always good to use and by utilizing the best practices we have notated you can help to make sunscreen even more effective for you and your older people.
Here in Florida, most people spend a copious amount of time in the sun. Using sunscreen can make that time more positive and safe for you and your loved ones. It's best to use at least SPF 30 and to reapply sunscreen periodically to help ensure your skin is protected.