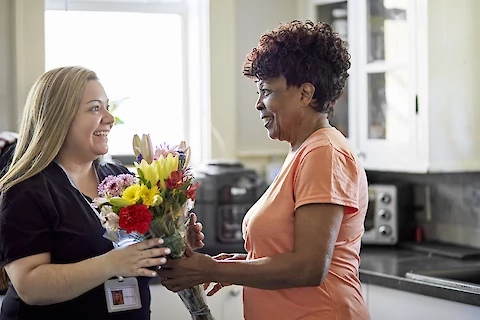 Taking care of senior loved ones is an honorable role that shouldn't be overlooked. Caregiving requires constant dedication and wholeheartedly accepting the job to help improve a senior's quality of life.
When a person impacts your life in such a powerful way, it's crucial to express your sincerest appreciation. However, common expressions of gratitude might not seem enough when thanking someone who's helping you live your life to the fullest as comfortably as possible.
How can you thank these unsung heroes and ensure your message is deeply felt?
Here are the top 4 ways to show gratitude to your caregivers in Polk County, whether in Lakeland, Haines City, Auburndale, Bartow, or Winter Haven.
1. Get to Know Your Caregiver.
Want to show your caregiver you are honestly thankful for their excellent work?
Get to know your aide past their professional life through casual conversations. Ask about their hobbies, dreams, family, likes, and dislikes. Take note of their personal preferences and birthday so you can surprise them occasionally.
Wanting to know your caregiver on a personal level might seem simple, but it makes them feel valued. Being interested in their personal life shows you genuinely care about them and not just their job.
2. Throw a Surprise Party in Honor of Your Caregiver.
Before you get super excited and start ordering a cake or looking for decorations in Polk County, you must consider who will attend. Make a list of your caregiver's friends and loved ones and secretly invite them to the party (you don't want to spoil the surprise).
Plan for your caregiver's favorite games, music, and food to show how grateful you are for their love and care.
3. Write Them a Handwritten Thank-You Note.
Handwritten thank-you notes can be an exceptional gift in a world of digital-first communication. Words on paper feel more heartfelt than a text or email—maybe because it is physical and can be stored forever.
Everyone knows that sitting down and writing a thank you note is entirely meaningful. Your caregiver will value your expression of thanks even more for this reason.
Use deep, emotional statements in your note of thanks, so the caregiver doesn't question your sincerity. With a thoughtful and deliberate intonation, you can say:
I will forever remember your kindness and support.
I am eternally thankful for…
I can't thank you enough for…
4. Say It!
This might be the simplest way to appreciate your caregiver, but it is undoubtedly one of the most powerful. It depends on what you will say and how you will say it.
Ask yourself two questions:
What are you thankful for? Be specific when showing your caregivers how special they are to you.
What are the defining traits of your caregivers? Tell them your favorite things about them and the characteristics that make you thank them most. Doing so acknowledges their effort in a way that feels personal.
Showing Gratitude to Your Caregiver in a Way That's Heartfelt
Showing appreciation is one of the easiest yet most powerful things you can do for your caregiver. Use one of the ways above to show that you're genuinely thankful and communicate your message in a heartfelt way.
Senior Helpers of Polk County is one of the country's leading in-home senior care companies. We serve seniors in Lakeland, Winter Haven, Bartow, Haines City, and Auburndale, FL. Contact us today for more information about our services.