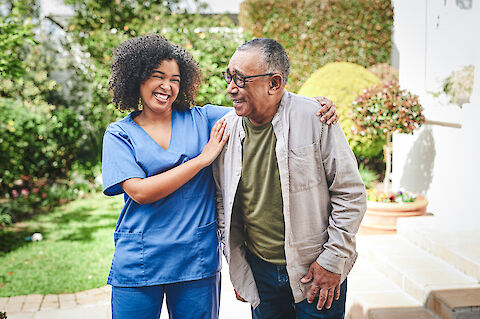 Caregivers for your senior loved one provide tireless work, dedication, and commitment every day. It's not an easy job, however, they show up. And because of that and all that they put into taking care of your senior loved one, they deserve to feel appreciated, especially on this special day, National Caregivers Day. 
What Is National Caregivers Day?
National Caregivers Day is observed on the first Friday of November in honor of those caregivers who provide time, energy, and support for your senior loved ones. It is a way to recognize all the individuals out there giving care to those who need it most. And people often do this through gestures of gratitude and appreciation.
Why Is It Important to Show Appreciation on National Caregivers Day?
Caregivers often juggle many roles all at once. While taking care of your senior loved ones, they are often balancing the needs and demands of their everyday lives too. What they do, taking care of other people is a selfless act with no guaranteed recognition. That's why it's important to recognize their efforts and to somehow thank them for them. 
Ideas for Showing Appreciation
There are many meaningful ways to show how much you care for caregivers, who provide outstanding services for your senior loved one. National Caregivers Day is a great opportunity to express that appreciation. Here are a few ideas to get you started:
Give a Gift
Gift-giving is a beloved gesture on National Caregivers Day, and there are plenty of options for finding the perfect present. Consider what type of items would bring joy or make your caretaker's job easier or things that they would appreciate after a long day at work. This could include a spa gift certificate, cozy blankets, or a snack basket. 
Send a Card
 A heartfelt card with a few words of appreciation can go a long way. You'd want to pick out something that will communicate how much you appreciate them—not just find any old "thank-you" card in the store. Or make a personalized one on your own. Show the caretaker of your senior loved one that you took the time and effort to think specifically about them, by writing an original message and selecting the right sentiment for their special day. 
Give a Compliment
Compliments and words of gratitude can make all the difference, so think about what you'd appreciate hearing and reflect on that. Tell them how valuable their contributions are and even thank them for specific incidents that affected your senior loved one's life positively. Your words don't even need to be grand. They just have to be sincere.
Offer to Help
If you have the means, another great way to show your appreciation is by offering assistance when needed. Offer to run errands or help with housework for a caregiver who might be feeling overwhelmed. They'll appreciate having a helping hand so they can focus on other tasks on their schedule. This will really make them feel valued and supported!
Senior Helpers Polk County Provides Outstanding Care
National Caregivers Day provides a great opportunity to express our appreciation for the people who take care of your senior loved one. If you're in need of in-home senior care in Lakeland, Winter Haven, Bartow, Auburndale, or Haines City, we at Senior Helpers will be glad to provide assistance. At Senior Helps Polk County, our team thrives on providing your senior relative with outstanding care throughout the day. Reach out to us today to learn more about the services we offer!