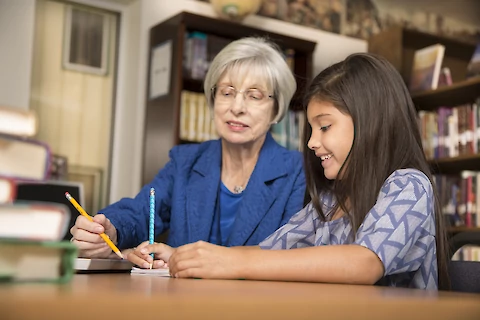 The beginning of the school year can be an excellent time to start volunteering in nearby schools, especially for seniors that are frequently available during the school day. Here is an overview of opportunities that are typically available for seniors living in Lakeland, Winter Haven, Bartow, Auburndale, and Haines City that are interested in volunteering in schools and how to get started!
Common Opportunities for Volunteering in Schools 
Whether you are looking for a one-time project or are interested in setting up an ongoing commitment that will put you in the classroom one or more days each week for the entire school year, nearly every school has a wide range of opportunities for community members that are searching for a way to get involved. Classroom volunteers may be able to work with small groups or individual students on assignments they need a bit of extra help with, organize classrooms, help teachers prepare materials, supervise crafts or play time, serve as mentors to children or teens, chaperone field trips, and assist with a variety of other tasks. 
Other Ways to Volunteer With Students 
Schools may be the most obvious option to come to mind when thinking about ways to volunteer with students, but there are plenty of other options for using your talents to benefit children and teens. Many schools also offer programs outside the school day for children whose parents work, particularly before and after school programs. Some areas may also offer similar services during school breaks or on weekends to give parents plenty of options for giving their children a safe and supervised environment to play, work on assignments, and spend time with their friends. If you cannot find a school that offers its own programs, many cities have at least one third-party organization, such as a YMCA, Boys and Girls Club, or similar program, that you may be able to volunteer at. 
Getting Started as a School Volunteer 
Finding an opportunity to use your skills to benefit a school near you is often as simple as getting in touch with the school. Many schools and school districts list overviews of their current volunteer needs on their websites or social media pages, and you can also try calling the school if you are not finding what you are looking for online. While many of these projects are often covered by parents, they can usually work just as well for seniors and other local volunteers located in Lakeland, Winter Haven, Bartow, Auburndale, and Haines City that are available during the school day. Some schools and after-school programs may also post available volunteer opportunities on general volunteer websites.
Once you have decided where you would like to volunteer, many locations will have some type of volunteer interest form available that will give you an opportunity to let the school know a bit about you, what your interests are, and what areas might be the best fit for your skill set. You will also usually be expected to meet with the teacher you will be working with or participate in an orientation program to learn about your responsibilities as a volunteer. 
At Senior Helpers of Polk County, we prioritize connecting seniors in Lakeland, Winter Haven, Bartow, Auburndale, Haines City, and nearby towns with volunteer opportunities that match their interests and talents. Volunteering in schools and after-school programs is just one of the dozens of ways you may be able to stay active while giving back to your community in a way that is enjoyable and meaningful to you. Contact us today to learn more about the benefits of volunteering during your senior years or to start the process of finding an opportunity that is a good fit for you!