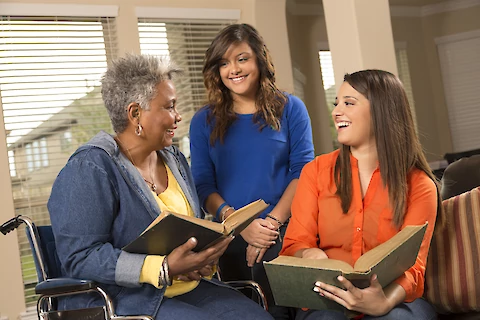 The summer months are rife with volunteering opportunities for older people with free time and compassion to share. If your hand function and general mobility are declining, there are still countless ways to leverage your wisdom, experience, and talents to help others. Getting out and volunteering is an easy way to add more joy to your life. Many forms of volunteer work can also protect both memory and cognitive functioning by helping the brain create new neural connections and preserve existing ones. Following are four ways that you or your aging loved one can help in the Lakeland or Winter Haven community this hot season.
1. Contact Veterans Affairs for Volunteering Opportunities
Veterans of all ages can have an incredibly hard time re-integrating into society after their service has ended. Many return home with post-traumatic stress disorder (PTSD), depression, and serious physical injuries. Older people have a unique opportunity to positively impact the lives of veterans by sharing their wisdom and grandparent-like compassion. When you contact the Office of Veterans Affairs, you can find a diverse range of volunteering opportunities. Even simply sitting by the bedside of an injured vet and listening to their stories or sharing your own can make a world of difference. Volunteering as a Compassionate Contact with the VA is perfect for aging adults who are homebound themselves. With these jobs, volunteers spend between 15 and 60 minutes on the phone with veterans or in virtual or video chats. 
2. Be a Professional Hugger/Baby Cuddler
When the parents of premature babies have other young children to attend to, these newborns wind up spending hours or even days in the hospital while their own families are at home. Working in the neonatal intensive care unit (NICU) is a great way to help a little one get a comfortable start in life and one of the most fulfilling forms of volunteer work you can find. Becoming a professional hugger/baby cuddler also provides comfort to new moms who cannot be present all the time. Professional hugging services bolster the health of preemies and help them physically flourish. These volunteer jobs are often as easy as holding the hands of babies, 
Senior Helpers Optimized Content
rubbing their feet, or simply sitting beside them and speaking in soothing, loving tones.  Many hospitals post requests for baby cuddlers on their websites.
3. Offer Tutoring Services at a Local Library
Do you speak a second language? Do you have a degree in any area that makes you qualified to teach? Rather than letting your professional skills go unused post-retirement, consider using them to help shape young minds. Older people can volunteer as tutors at local libraries for students who are attempting to catch up with their learning during the summer or get ahead. There are also opportunities to read books to local youth during summer story hour or assist with reshelving books and other basic library duties. There's also training for older adults who want to act as volunteers in urban schools year-round through Education Corps. 
4. Help at a Nearby Food Bank
You don't have to have full mobility to be of value at a local food bank. Many of these locations are constantly understaffed and always in need of extra support. You can work as a greeter, make phone calls to request donations, sort through fruits and vegetables that have been offered by local farmers, or simply keep crowds cheery while they wait in line. Some seniors share recipe ideas for patrons of foods banks so that they can make the most of the resources they're offered. If you know a million ways to make a meal using fresh, simple ingredients, your local food bank definitely has worked for you. You can also contact Meals on Wheels of Polk County to learn more about donation opportunities and other ways to lend your support. 
At Senior Helpers of Polk County, we work hard to help seniors stay active, engaged, and part of their communities. With options in companion care, personal care, and transportation assistance, we can help the older adult in your life experience new things and stay socially connected. Contact us today for a phone consultation.