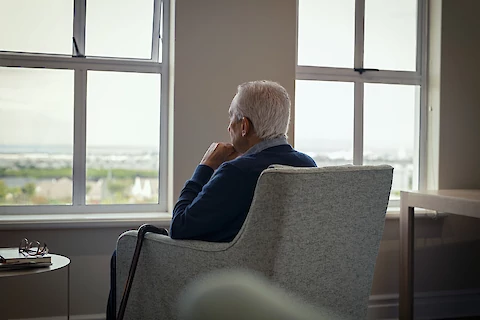 Life can get hectic sometimes and it's easy for loved ones to get lost in the fray.  Remembering to keep in touch isn't always easy, but it's always important. This is especially true for the aging adults in your life. People who are lonely aren't always good about expressing their emotions. They may feel embarrassed by their vulnerability or they may simply believe in pushing through emotionally challenging times. Following are four hard-to-spot signs of loneliness in seniors as well as a few simple ways to prevent it.
1. Changes in Communication and Social Skills
Lack of interaction and prolonged periods of social isolation can lead to behavioral changes that aren't always associated with loneliness. Social skills are like all other skills - they must be exercised in order to be maintained. At any stage of life, when people spend too much on their own, they may have a hard time reading common social queues. Older people who aren't in regular contact with others may talk for long stretches of time and refuse to let conversations end. Some may not speak at all. If you haven't talked to your loved one in a while and find that they've become especially loquacious or significantly less chatty, this may be an indication that you should check in more often.
2. Disinterest in Personal Appearance
Spending a lot of time alone can also have an impact on how people take care of themselves. Seniors who don't get out as much as they used to and who aren't visited often, may become less interested in cutting or styling their hair, ironing their clothes, or even changing out of their pajamas or loungewear. There's certainly nothing wrong with wanting to be comfortable, but if your loved one's attention to their appearance has taken a dramatic dip, it's okay to ask how they're doing. Sometimes having a listening ear and a regular visitor is enough to turn the tide. People often dress up to look good for others and to feel confident in social settings.
If you've got limited free time and few opportunities to drop by and take your senior loved one out, consider signing up for companion care in Winter Haven. With companion care, older people can go out to lunch, go to the movies, go shopping, or enjoy other outings with professional helpers. If your loved one has additional needs, companion care can also include light housekeeping, meal prep services, personal care, and more.
3. Mood Swings
Everyone can be a bit moody when they start feeling unappreciated, unseen, and ignored. Being left alone can cause people to struggle with bouts of sadness, frustration, and depression. Be on the lookout for mood swings. Leaving the workforce, dealing with changes in mobility, and having limited contact with friends or family members are hard to deal with. Although not every older person experiences all of these challenges at once, experiencing too many at one time can make it hard to maintain mood balance.
4. Memory Difficulties
Memory challenges during the golden years aren't always an indication of serious health issues. In fact, they may simply mean that a person is feeling depressed and having a hard time focusing. Short-term memory loss is frequently associated with depression. If you have a family member who appears to be increasingly forgetful, try taking them out on a date or scheduling some time with a senior helper. Taking advantage of volunteer opportunities in Auburndale or Bartow, signing up for classes at a community rec center, or simply getting out and going for long walks with family and friends may make an immediate difference.
At Senior Helpers of Polk County, we're committed to helping retirees make the most of their golden years. We offer an impressive range of services for keeping our clients active, happy, engaged, and loving the lives they live. If you or your family member needs companion care or other assistance, contact us today!