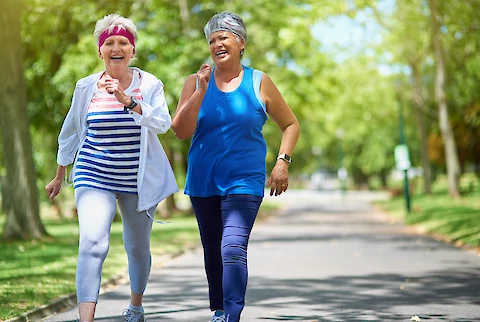 October 20th was World Osteoporosis Day. Osteoporosis is a condition characterized by a loss of bone density, making those with the condition more prone to fractures. It can become so severe that even a minor fall can result in serious bone fractures, leading to loss of mobility and independence, and in some cases, even cause life-threatening injuries. World Osteoporosis Day helps raise awareness about the condition, which affects around 10 million people in the United States, many of whom are over 50. In 2019 alone, more than 144,000 Medicare recipients in Florida suffered from osteoporosis-related bone fractures.
Fortunately, you can help prevent osteoporosis or stop the condition from progressing if your doctor says you are at risk of developing it after a bone density scan. Here are three tips you can incorporate into your daily routine to help strengthen and protect your bones.
1. Get 30 minutes of bone-strengthening exercises a day
If Polk County residents want to protect their bones, they'll want to make exercise an essential part of their day. Weight-bearing activities are best for building up your bone strength, so you'll want to choose exercises that make you work against the power of gravity. That can be as simple as taking a walk, playing tennis, or attending a dance class. Lakeland residents who want to get outside for daily exercise should check out walking trails at Holloway or Saddle Creek Parks. If the weather keeps you indoors, going up and down your stairs a few times can be an excellent alternative. Be sure to consult with your physician before you start an exercise program.
2. Include bone-building minerals and vitamins in your diet
Bones need protein, calcium, and vitamin D to stay healthy. Florida residents typically get plenty of vitamin D from the sun, but you may need to increase your calcium and protein intake through your diet. You can get more protein from eating lean meats like chicken or pork and seafood like fish, shrimp, or crab. Eggs are also an excellent source of protein. Add more yogurt, cheese, and dark leafy vegetables to your diet to boost your calcium intake. You'll find a great selection of dark leafy veg at Lakeland's farmers market, held every Saturday on Kentucky Avenue.
3. Keep an eye on how much alcohol you drink in a day
 Alcohol reduces your body's ability to absorb calcium, essential for building and maintaining strong bone tissue. While that doesn't mean you have to give up your favorite evening beverage, it does mean that you should limit yourself to no more than two alcoholic drinks per day. That means two small glasses of wine or one double measure of your favorite spirit daily.
Looking for More Tips to Help Prevent Osteoporosis?
While osteoporosis can affect men and women of any age or race, women over 50 are most at risk. Talk to your doctor about your risk. They may recommend that you get a bone density scan, a painless procedure that uses x-rays to measure the density of your bones. The scan can help you and your doctor make an informed plan to help prevent osteoporosis and protect yourself from fractures.
Are you looking for more tips on how to stay healthy after retirement? Talk to the Senior Helpers of Polk County team. We offer companion care and wellness watch services to help you or your loved one maintain a healthier lifestyle while aging in place at home. Contact us today to schedule a free in-home consultation.