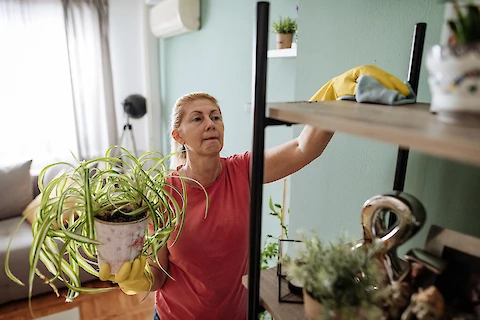 As the weather warms up and springtime draws near, it's time to start doing the yearly home maintenance tasks that keep our homes clean. In this blog from Senior Helpers Panama City, we'll discuss four simple home maintenance tasks that elderly relatives with limited mobility can do around the house this spring. From dusting to vacuuming and checking smoke and fire detectors, we'll make sure your elderly relatives stay safe and comfortable this spring. Let's get started!
Dusting
Dust is an inevitable problem when it comes to springtime cleaning. With the rising temperatures and the winds picking up, the dust can quickly settle on surfaces and collect in corners. Fortunately, dusting is one activity that seniors can do fairly easily. There isn't a lot of bending and climbing required, but the sense of accomplishment and pride in a job well done will still shine through.
Vacuuming
After the dust has been cleared, it's time to vacuum the floors. Generally speaking, seniors are able to vacuum their floors on their own, since pushing a vacuum doesn't require a lot of muscle. However, senior adults should always ask for assistance if they feel as though the task of pushing a vacuum is too strenuous.
Check Smoke Detectors
Nothing is more important than safety, especially when it comes to your elderly relatives. That's why it's essential to check the smoke detectors around the house. As long as smoke detectors aren't too far out of reach, and seniors don't have to climb on any precarious ladders, this is something that they should be able to handle on their own. 
Checking smoke detectors can give seniors a sense of peace and serenity, and it might help them to rest easier, knowing their homes are safe and secure. Plus, it takes just a few minutes to quickly check smoke detectors around the house. 
Check Fire Detectors
In addition to checking smoke detectors, it's important to check the fire detectors in the home as well. This will keep your senior loved ones safe and protected in the event of a fire. Senior Helpers Panama City has fire detector checking services for Panama City, Chipley, Lynn Haven, Marianna, and Bonifay seniors, so your elderly relatives can stay safe this spring. 
Senior Helpers Provides Premium Senior Care
Springtime home maintenance doesn't have to be a challenging activity for elderly relatives with limited mobility. There are plenty of tasks that your senior relative can do on their own without the fuss of asking family and friends to come over, or spending the money on hiring a professional cleaning service. With the help of Senior Helpers Panama City, your senior loved ones can have a safe and comfortable spring season.
At Senior Helpers Panama City, we provide dusting, vacuuming, smoke detector checking, and fire detector checking services to elderly relatives in the area. Contact us today to learn more about how we can help your elderly relatives this spring!