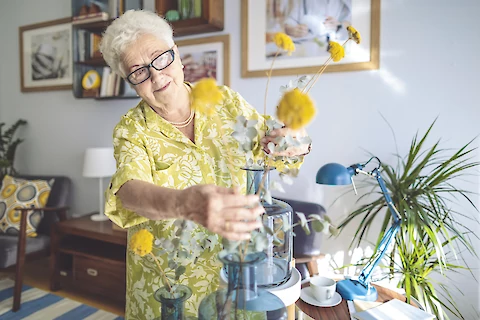 As they age, mostseniors hope to remain in their own homes. This goal is often in reach, but achieving it also requires a little preparation. If your loved one plans to age in place for as long as possible, there are several steps that can help you set up their space and ensure that they live the fulfilling life they deserve in their Orlando home.
Step 1: Remove Fall Hazards
Fall safety becomes increasingly important as an individual ages. A fall could leave a senior unable to get around or complete their usual self-care tasks. Remove common fall hazards throughout the home, including any dangerous cords or rugs. You may also find that keeping clutter cleared away can help prevent falls and leave the home safer.
Step 2: Renovate the Bathroom Used Most Often
You may want to renovate the bathrooms in the home to increase safety. A few modifications can make a big difference. Make sure to:
● Install grab bars where needed
● There are several on the market now that resemble decorative towel bars, so you can keep the bathroom looking its best while still maintaining that critical level of safety
● Install a higher toilet
● Consider a walk-in shower
Step 3: Add Lighting Where Needed
Adding extra lights, especially between the bedroom and the bathroom or kitchen, can make it safer to move through the home for a middle-of-the-night trip to the restroom or to get a glass of water. A few night lights can help your senior loved one to clearly see their path and stay safe as they navigate in their home.
Step 4: Check the Entrances
Make sure the home has at least one easy entrance and exit -- one that does not require your loved one to go up multiple stairs. Install a ramp if needed, especially if you worry that mobility will decrease enough that a wheelchair becomes necessary.
Step 5: Have a Plan for Taking Care of Regular Home- and Self-Care Tasks
As your loved one ages, they may struggle with many of the tasks that once made up their days. They may have more trouble getting around, start to forget to take care of tasks that need to be done regularly, or no longer have the dexterity or strength to complete their day-to-day activities. Make sure you have a plan in place for dealing with home- and self-care as your loved one ages. They may need assistance with:
● Home care, including cleaning inside the home
● Yard care
● Personal care, including assistance with medical care or self-care tasks
By setting up the home to make it easier to age in place, you can make it easier and safer for your loved one to stay in your home for as long as possible. Need more information about in-home care, including live-in home care options, in the Winter Park or Orlando area?Contact Senior Helpers today to learn about the services we offer and how they can benefit your loved one.