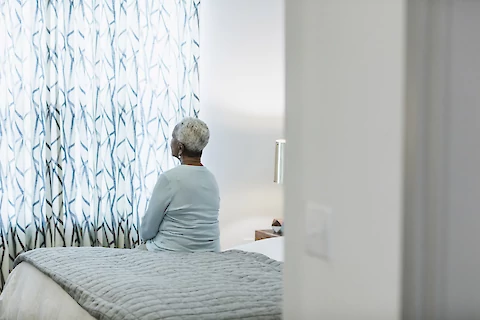 As we age, we become more susceptible to social isolation and loneliness. According to a report from the National Academies of Sciences, Engineering, and Medicine, more than a third of adults aged 45 and above feel lonely.
Many people don't realize how relationships have such a huge impact on one's health. As a caregiver, you may notice that a senior in your care is socially isolated, especially after a spouse or close friend has died. When this happens, you need to talk to the senior about the health concerns of loneliness.
What Are Some Tips to Help Caregivers When Talking to Seniors About Loneliness?
Many seniors have difficulty opening up about loneliness, so bringing up the health concerns of loneliness can be quite challenging. Some suggestions on how to address the subject of loneliness with seniors include:
Ask
Do not make assumptions. Instead, ask questions to know how the senior in your care feels. Some good questions are: How are your relationships with loved ones? What other options do you have for getting assistance besides me? In what groups do you participate? 
You can learn much about their perspectives and feelings from their answers to these questions.
Educate
Inform the senior in your care of the health concerns associated with loneliness. Some health concerns of loneliness in seniors include depression, anxiety, heart disease, high blood pressure, obesity, a weakened immune system, or cognitive decline.
Discuss
Create a positive and empowering atmosphere for the discussion. Instead of focusing only on the negative effects of isolation and loneliness, remind them that they can take easy measures to improve their social well-being.
Listen
Discussing the health concerns of loneliness provides a good opportunity for the senior to make a meaningful connection. When expressing your concerns, listen with compassion, keeping in mind that seniors are dynamic people and not just passive medical records.
What Can You Do to Combat Loneliness in Seniors?
After bringing up the health concerns of loneliness, caregivers should come up with ways to help seniors feel connected. Some ways to help reduce seniors' feelings of loneliness and isolation include:
Suggest getting a pet. Providing for a pet is rewarding, and the companionship pets provide is invaluable to seniors.
Encourage exercise. Being active is great for the physical and mental health of seniors.
Make transportation accessible by offering to drive them around. When seniors have access to transport services, they can keep in touch with friends and family and venture out to enjoy their community.
Encourage community involvement. Seniors will feel fulfilled knowing their work drives positive change in their communities.
Promote a sense of purpose. For instance, if the senior in your care is religious, you should encourage them to keep up their regular worship services.
Promote the accessibility of adaptive devices like a wheelchair, hearing aid, or walker. These aids enable seniors to lead active and involved social lives.
Isolation among older adults is becoming a widespread issue. However, many options are available to ensure that the golden years are spent in joy and health.
Get In-Home Care Through Senior Helpers of Orlando
Finding a caring and knowledgeable company to work with is essential when seeking care for an aging loved one. At Senior Helpers Orlando, we provide extensive services and programs to help seniors remain in their homes as they age. Get in touch with us today to begin your in-home care journey!