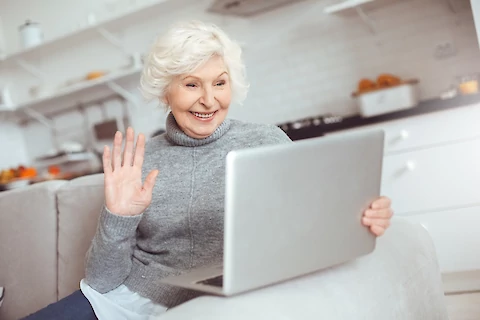 As we all take steps to follow the CDC's infection control and prevention procedures and adhere to state and local mandates to help stop the spread of COVID-19, we must not lose sight that seniors and family caregivers are affected in more ways than one during this pandemic. People ages sixty and older are not only more susceptible to adverse health outcomes with COVID-19 but are also impacted by an increase in social isolation.
Older adults have had to adapt to a new normal that includes social distancing requirements, ever-changing curfews, on-and-off business closures, quarantines, and increased isolation. Because of seniors' health concerns, many have had to distance themselves from long-time friends, neighbors, and family members. Family caregivers can take steps to mitigate isolation and loneliness by encouraging seniors to stay socially engaged.
Consider the following social engagement options to include on a senior's weekly activity schedule: 
Encourage loved ones to reach out to friends, long-time neighbors, and family members via phone calls, emails, texts, video-enabled communications, and social media. 
Ask family members who do not live in the immediate area to send letters and cards.
Enlist children and teenagers to create specially designed cards to send to their grandparents or elderly family members. Intergenerational communication can foment long-term family ties and open the door to memorable experiences for both seniors and younger family members.
Plan brief weekly reunions with family and friends using video-conferencing applications, such as Zoom. The opportunity to try new methods of interaction can be a stimulating learning experience for all ages while helping boost social interaction and reducing senior isolation.
Encourage younger family members to produce an online video interview with older family members. Ask older family members to share fun childhood experiences or talk about favorite family recipes. To build new memories and provide feedback, children can present loved ones with their completed video interview or a video presentation showing how they prepared a family member's favorite recipe.
Ask a grandparent or family caregiver to take part in reading a favorite children's book using a video platform. For feedback, add a question-and-answer period at the end of the story.
Join an online support group! Family caregivers who care for loved ones with dementia may benefit from joining virtual caregiver support groups in their areas, especially during these stressful times. Contact the Alzheimer's & Dementia Resource Center to take part in one of their weekly support groups, which are currently being done online using Zoom. To find out more, please call (407) 436-7750 to inquire about dementia support groups. You can also access their website's calendar page at https://adrccares.org/adrc-events/.
We hope the information we included in this blog is helpful to you and your loved ones.
Older adults in our area are facing increased challenges by being homebound due to COVID-19. Senior Helpers Orlando caregivers are available to provide care and support to seniors in our community. Senior Helpers Orlando provides in-home health care services in the counties of Orange, Osceola, and Seminole. Should you need assistance in caring for a loved one, and need information about the services we provide, please call Senior Helpers Orlando at (407) 628-4357.
Ana P. DeLane
Senior Helpers Orlando Team Member
Resources and References:
Coronavirus Disease 2019 (COVID-19); Older Adults; Centers for Disease Control and Prevention (CDC); updated June 26, 2020; retrieved July 7, 2020, from https://www.cdc.gov/coronavirus/2019-ncov/need-extra-precautions/older-adults.html
Fannies Friends (Support Group for Adult Daughters and Granddaughters) Alzheimer's and Dementia Resource Center; retrieved July 7, 2020, from https://adrccares.org/events/support-group-advent/