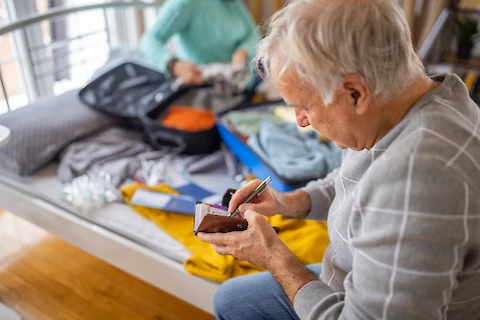 Labor Day is a celebration of the efforts and accomplishments of all American workers. It is usually observed in the first week of September. The holiday is celebrated with activities such as picnics, road trips, or outdoor games. For most people, the three-day weekend allows them to bond and make memories with their senior loved ones.
While others are satisfied with an indulgent staycation, most people prefer traveling with their senior loved ones. Whether traveling on a road trip to a destination, aboard a cruise ship, or a plane, here is a guide on how to prepare when traveling with an elderly loved one.
Get a Doctor's Clearance
Before traveling, it's important to make an appointment with the senior's doctor to talk about the following concerns:
Whether the senior has any chronic medical conditions
The destinations the senior loved ones planned to visit
The length of the trip
Planned activities, such as scuba diving or swimming
The kinds of accommodations the senior loved ones will be staying in e.g., short-term rentals, camping, or hotels.
Whether the chosen travel and destination plans suit the senior's abilities
If they require any particular vaccination
Whether the doctor has any concerns to be prepared for when traveling
The consultation should be made by a caregiver weeks before traveling to pick a destination that fully meets the capabilities of a senior loved one. Also, before traveling, the seniors' routine vaccines should be up-to-date.
 Look for Senior-Friendly Travel Services
When taking a flight, it's important to inform the airline in advance if any assistance is needed. Assistance can include a wheelchair to help with the senior's movement; in case of meal services aboard, requesting special dietary needs for the senior loved one is essential. Also, requesting seats designated for the disabled can be helpful.
When using a car as a mode of transportation, it's essential to consider a larger and more comfortable model. In addition, if a senior uses mobility aids such as wheelchairs, it's important to ensure it fits well in the preferred travel vehicle.
 Request and Reserve Senior-Friendly Accommodation
Ideal accommodation for seniors should have the following features:
    Healthy food options
Accessible entrances for the mobility challenged
The rooms should be equipped with senior-friendly beds that are comfortable as well
The hotel should be noise-free
It should have a medical backup in case of an emergency
The rooms should be well ventilated
It is also important to ask about additional amenities offered, such as shower chairs for the seniors to facilitate easy bathing
Also, choosing a hotel that is in proximity to all planned activities helps limit unnecessary travel time and expenses.
Have Essentials Ready
If a senior loved one suffers from vascular disease, getting them special stockings helps prevent leg numbness resulting from sitting for extended periods in the car or plane. Taking medical information such as doctor's contacts in case of an emergency, prescription, and insurance information is crucial.
Senior loved ones tend to get dehydrated quickly, so having water on hand is equally essential.
 Stick to Their Routine
For clients living with dementia, it's essential to stick to their routines. Understanding what to expect throughout the day helps reduce anxiety and stress. While a new environment can confuse them, carrying familiar objects such as blankets can help create a sense of home and minimize confusion.
When it comes to traveling, there is no age limit. However, proper planning makes it possible to get away during Labor Day and make lifelong memories with senior loved ones.
If you have a loved one or know someone living with Alzheimer's, dementia, and Parkinson's around Orlando, Winter Park, Apopka, or Kissimmee looking for in-home senior care, we've got you covered! Senior Helpers Orlando offers a wide range of customized services to ensure your loved ones get the care they deserve. Contact us today for more details.