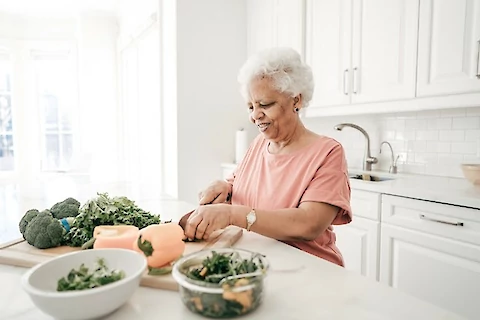 Many seniors love to continue to be independent as they age, and that includes preparing themselves for the meals that they have always loved. However, sometimes the kitchen can come with additional risks like falling or burning one's self on a hot stove or oven. As we get older, these accidents can become more severe and the recovery can take longer.
To help avoid such incidents in the kitchen, there are precautions that help seniors avoid injury while still maintaining independence. The professional caretakers at Senior Helpers Orlando serving Winter Park, Kissimmee, Apopka and the surrounding areas, have seen first hand that cooking is a key activity that helps keep seniors independent, healthy, and happy.
The following are 5 great tips to help seniors be safe in the kitchen while still allowing them to make the foods and meals they have always loved:
Install Working Smoke Detectors:
Smoke detectors may go off when you burn the food or overcook something, and sure it can be annoying. However, if there was a real emergency and you needed your smoke detectors to work, you want to ensure that they will detect smoke in your home. Many fires start in the kitchen when someone is cooking and forgets something is in the oven or on the stove. Smoke detectors are a great tool to help determine if there is smoke in the home. The average smoke detector will last about 10 years and will keep seniors safe as an investment for years to come. 
Replacing the batteries in smoke detectors regularly can help keep seniors safe while still allowing them to be notified if there is a fire or other problem in their home. 
Replace Slippery Tools with Grippy Tools:
Replacing old oven mitts and other tools with new, grippy-featured tools can help seniors maintain a better grip on food when they cook and help the also avoid additional injuries. These grippy tools can help protect seniors from additional injury and can ensure that seniors can grab the tools and use them safely while in the kitchen. Using grippy tools can help seniors avoid slipping and burning themselves or otherwise getting injured while cooking.
Don't Skimp on Safety Devices:
Ensure that seniors have appropriate safety devices on hand at all times. Using a wad of paper towels to pull something hot out of a microwave or oven might seem quick, easy, and convenient, but can lead to burns, falls, and other injuries that can be very serious for a senior. Providing grip-proof oven mitts, safe pots/pans/utensils, and other safety tools can help seniors be safer as they continue to spend time in their kitchens as they age in place. 
Use Slip-Proof Mats on the Kitchen Floor:
Changing the entire kitchen's slippery floorboards or tile can be rather expensive and cumbersome, but using rubber mats or other slip-proof devices can help make the kitchen a safer place for seniors that is a much lower fall risk than slippery tile or hardwood floors. Anything that can help seniors keep their footing means fewer falls and fewer chances for injuries. 
Remove Clutter That Can Become a Tripping Hazard:
Clutter can become a tripping hazard if it falls off of counters or chairs. Removing clutter can help keep seniors safe in their kitchens by not falling on the floor and causing seniors to trip or fall and possibly get injured. The less clutter that six around to fall on the floor the better it is for seniors who are less likely to fall and possibly get hurt.  
Taking precautions now can help a senior avoid a fall later. An ounce of prevention now can save a fall and a lot of pain and discomfort later on. Keeping seniors safe is our number one priority as they age in place in and around Orlando. If seniors are safe at home, they are able to stay in their homes longer and they are able to live more independent lives.
For further assistance with how to keep seniors safe while they continue to cook meals they love in their homes, please feel free to contact us. We are here and happy to help.