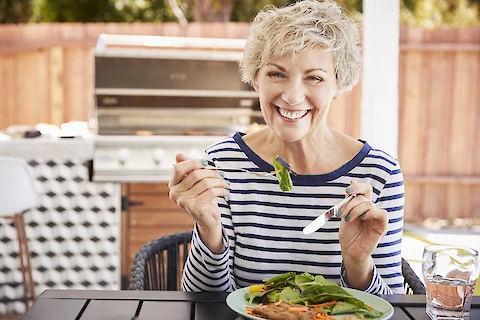 Easy Breakfasts for Seniors to Prepare Themselves
Many seniors have a part-time caregiver that may only be with them for a few hours per day or a couple days per week. This means that sometimes seniors will have to make their breakfast by themselves. There are easy-to-make meals out there like a bowl of cereal, but that can get boring. Sometimes you need something different that isn't difficult to make.
Here are three suggestions for breakfasts for seniors that won't require a ton of preparation.
Warm Oatmeal & Fruit
Steel-cut oats are the best choice when it comes to oatmeal, as they are the most nutrient-dense option. Steel-cut oats typically come in canisters at your local supermarket. Brands like Quaker Oats can be brought for relatively cheap (32 oz. for about $4.19). Organic oats will be a little more expensive (18 oz. for $3.29). Steel-cut oats can be a better option than most instant oats, which tend to have additional additives and unnatural ingredients in them like guar gum and calcium carbonate.  
You can add flavor to your oats with whatever you choose. Brown sugar, cinnamon, raisins, or dried fruit are all fair game. If you want to add more calories to your breakfast, then you can use whole milk. If you want fewer calories you can use either skim milk or even water to cook your oats.
Pair your oatmeal with your favorite fruits, such as bananas, oranges, apples, or berries, for a nutritious meal packed with fiber and whole grains. You don't have to eat oatmeal just for breakfast!
"Power" Toasts
Toast a piece of whole-grain bread (or two) and top it with whatever you like. Be sure to include some protein, such as adding peanut butter or an egg. Fish like lox can be added to a "power toast" to make a nourishing breakfast as well. Experiment and add some other fruit like sliced kiwi, raspberries, blueberries, or sliced strawberries. Spreads like hummus, cream cheese, or even cottage cheese, also make great additions to your power toast. Sprinkle on some chopped or ground nuts like almonds, cashews, pecans, or walnuts to add healthy fats. Avocados work well, too. There are many possibilities, so experiment with it and find out which combinations are easy and delicious to you. 
Yogurt Parfaits
Making a yogurt parfait is another great healthy, nourishing breakfast for seniors. Whether you choose to use regular yogurt or Greek yogurt, a yogurt parfait is a nice break from a "traditional" breakfast.  Add in your favorite fruit for different flavors. Whether you want a Berry Parfait (blueberries, raspberries, and strawberries) or a Tropical Parfait (oranges, pineapple, mango, and kiwi) or you want to try your own combinations, a yogurt parfait can help provide you the protein and fresh produce you need to start your day. Chop up your favorite nuts or add granola and honey for toppings. Yogurt parfaits can be made with many combinations of fruits and flavored yogurts to add some variety to your breakfast.
Seniors who are preparing breakfasts for themselves don't have to just eat a bowl of cereal every single morning. These are some great alternative ideas for nutritious breakfasts that seniors can prepare themselves when their caregiver may not be present. 
At Senior Helpers in Orlando, we're here to help you or your loved one stay healthy and safe. Our home caregivers assist seniors throughout Orlando, Winter Park, Kissimmee, Apopka, Saint Cloud, Sanford, and Winter Springs. For more information on how we can meet your senior care needs, please contact us.