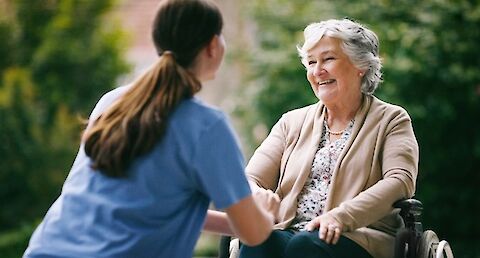 The older we get, the more people we have in our lives. We have our families, friends, colleagues, and if we're lucky, our caregivers and companions.
Professional caregivers and companions are in high demand in the Orlando, Winter Park, and Saint Cloud areas because more people are choosing to age in place at home. However, many wonder if a senior companion and a caregiver are the same?
Essentially, the short answer is: No, they are not the same. Here's how:
What is a Senior Caregiver?
A senior caregiver is someone who is expected to help provide basic care. Many caregivers have certifications and/or are licensed. These credentials can include LPNs, RNs, etc. and they often provide service to a patient in their own home rather than in a long-term care facility.
Home-based caregivers are expected to provide services to seniors in the comfort of their own homes as Orlando seniors choose to age in place. Such services may include (but not be limited to):
Assisting with personal care (hygiene)

Assisting with toileting routines (i.e. incontinence, Foley bags, catheters, etc.)

Mobility assistance

Personal supervision

Basic food (snack/meal) preparation

Assistance with general healthcare

Emotional care

Assisting in communications with doctors

Monitoring long-term health

Home maintenance (cleaning, organizing, etc. of a senior's home)
It's worth noting that a caregiver may provide around-the-clock care or only during certain hours of the day during which the patient needs extra assistance and help. Every senior's needs are different, and caregivers may be needed part-time, full-time, or around the clock in shifts. Virtually no two situations will look identical. However, it's a general rule of thumb that caregivers generally have responsibility for the personal and medical well-being of a senior individual (or couple).
What is a Senior Companion?
Senior Companions will generally be hired to provide company for a senior who otherwise might be lonely or simply just want someone to spend time with them. Senior Companions generally do not require specific training and are individuals who wish to spend time with seniors and help "brighten their days" with a visit or some fellowship and socialization.
Common duties and requirements of a senior companion who is helping a senior in the Orlando area might include:
Spending time doing a senior's favorite activities (i.e. playing cards/board games, doing puzzles, arts/crafts, reading a book, etc.)

Going out to eat

Helping senior run errands (i.e. lifting heavy grocery bags, etc.)

Transportation assistance

Light Housework (i.e. dusting, vacuuming, watering plants, etc.)

Caring for pets
Generally, senior companions are hired when a senior can do most things on their own, but they simply may be lonely or want someone to spend some time with a few days per week. In most cases, a senior companion is not responsible for the person's well-being or financial/medical situation and well-being.
Every Situation is Unique:
Keep in mind that no two situations are identical, every senior living in the Orlando, Winter Park, and Saint Cloud areas has their own needs. There's no one size fits all when implementing professional senior care support. Please feel free to contact us for additional information if you're not sure what is right for you. We are here and always ready to help every senior age in place at home with the respect and dignity they deserve.