Wondering what gift to buy or create for a family loved one can often bring doubt and procrastination, especially when selecting a special gift for a loved one living with Alzheimer's disease or another form of dementia.
Before making or buying a holiday or birthday gift for someone with Alzheimer's disease or other dementia, it is essential to learn about their preferences, current needs, health conditions, and physical limitations. This information can help you select gifts or activities that will meet the person's needs and abilities and be something they enjoy. To help narrow your search, ask your loved ones directly about their favorite interests, sports, or past experiences. If needed, ask relatives to shed light on the person's favorite childhood activities and hobbies. Another key step is to learn about the person's dementia stage and to be aware of what changes may occur with progressive dementia, such as Alzheimer's. Always take time to speak with a physician to better understand how you can meet your loved one's needs as the disease evolves. Flexibility is essential when caring for a loved one with dementia.
The person's abilities, skills, and interests will ebb as Alzheimer's disease progresses. However, we can still help them celebrate positive experiences and help foster moments of enjoyment and accomplishment.
If you need gift ideas on what to purchase or what gift to create for a loved one with dementia, check the list of best gift ideas below.
1. Memory Box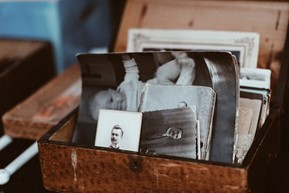 A memory or keepsake box is not just for young athletes or brides! This unique gift can be a great gift idea for persons with dementia. A memory box can help a loved one with dementia revisit his or her past via the items that are placed inside the memory box, such as a favorite birthday card, a childhood journal, photographs, postcards, a prized school award, a small toy, or a good luck charm. For ideas on what to put inside a memory box and to learn about the benefits of these boxes for people with dementia, read Pauline Green's post, "Five Things to Put in a Memory Box to Help People With Dementia," published on the University of Derby's blog in 2017.
Etsy offers a wide range of wooden memory and keepsake boxes. When purchasing a wooden box, make sure it has a smooth finish and is not too heavy to lift. Before making a purchase, check the box measurements, product details, and customer reviews.
To make the memory box extra special and more personal, consider having the box engraved with your loved one's name! You could also provide a set of paints alongside the box so your loved one can decorate their box as an additional fun activity.
2. Fidget Apron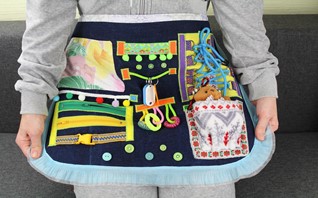 Sensory activities can help relax people who are suffering from Alzheimer's or other forms of dementia. Fidget aprons or pads can provide sensory and tactile stimulation for those with dementia, especially when their ability to communicate and perform daily activities or manual tasks wanes as the disease progresses. If a family member likes to sew, they can create a fidget apron or pad and sew on items that are meaningful to the person with dementia, along with objects that provide tactile stimulation. Items to attach to the top of a cloth pad or front of an apron can include buttons, cloth pockets, rings, silk or grosgrain ribbons, soft velvet and leather squares, small zippers, baby socks, toy rattles, or even scouting patches. Fidget aprons are great as year-round gifts, so don't just limit these to a holiday or birthday present.
If you are pressed for time, you can also find plenty of creative fidget aprons and mats on Etsy.com!
3. Clothing Gifts
Articles of clothing, such as seasonal garments, will be welcome gifts for the holidays and year-round. However, before buying clothes and accessories, consider the person's favorite colors, textiles, and preferred designs, along with their ability to dress with or without assistance.
If your loved one has difficulty dressing without assistance or struggles with buttons and zippers, purchasing adaptive clothes may make a great gift choice. Clothes with special modifications, such as Velcro or magnetic closures, can make it easier and less frustrating for the person to dress. Adaptive or assistive clothing may also simplify the dressing process for care partners or agency caregivers. Two well-known clothing brands that specialize in adaptive clothing are Silverts or  Buck and Buck.
Some individuals with dementia may become particularly attached to certain clothes and may not want to change even for hygienic reasons. If this is the case, the Alzheimer's Association suggests buying duplicates of the person's preferred garments. While a favorite garment is being laundered, they can wear the clean duplicate item. Buying duplicates of the person's favorite garments can help loved ones maintain cleanliness and reduce unwanted struggles around changing clothes. The holiday season and the summer months are great times to buy those favorite duplicate clothes.
4. Magazine Subscription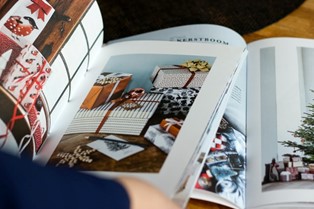 A yearly magazine subscription may be a great gift for seniors who enjoy reading inspirational stories and short articles. Reading can help lower stress and anxiety levels for many, including those in the initial and even early-middle stages of dementia. Providing meaningful and condensed reading material can help maintain engagement. Reading an article that piques the person's interest can also provide moments of relaxation and enjoyment.
Reader's Digest: Reader's Digest, a general-interest magazine first published in 1922, has a strong following among Americans. Reader's Digest Large Print edition includes articles in large, easy-to-read print and a large-print crossword puzzle. To learn about the latest subscription options and limited-time deals, visit their website at https://www.rd.com/.
5. Picture Dial Phones
Picture dial phones can be great communication tools for people with reduced vision, limited hand dexterity, and dementia. Large phone keypads with programmable memory buttons make calling less complicated. Most picture dial phones, also known as photo phones or picture phones, include the option of inserting images of the person's main phone contacts into the memory buttons. Instead of having to press each digit of the contact's phone number, the caller can press one large programmable memory button showing the contact's photo. 
Below is a shortlist of some well-known photo phones to consider.
Clarity-76593 P300 Amplified Corded Photo Phone: This photo phone has speed-dialed memory storage and includes nine large programmable memory buttons. The phone is corded, includes an extra loud ringer, and is hearing-aid compatible. The Clarity-76593 P300 is currently available at Best Buy.
Future Call FC-0613 Picture Phone: The Future Call FC-0613 Picture Phone includes ten programmable picture buttons. Programmed numbers are not lost if the power is cut. The phone includes a handset volume switch and ringer volume options.
Harris Communications HC-SiMPL-Photo Phone Amplified & Hands-Free Dialing: This HC-SiMPL Photo Phone includes six one-touch photo memory buttons. The buttons are programmable, and memory button information is retained even if the phone becomes unplugged. The phone is also hearing-aid compatible.
6. Puzzles and Games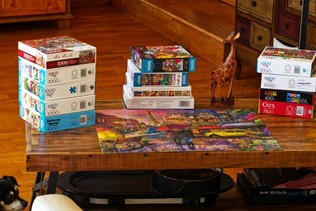 The stimulation of playing checkers, card games, chess, or dominoes, along with well-known classics such as Monopoly or Scrabble, can help keep individuals mentally engaged. Hands-on activities, such as jigsaw puzzles or board games, can help players in the early stages of dementia relax and reminisce while enjoying games they may have played in years past or during their childhoods. Taking part in leisurely yet stimulating activities can benefit persons with dementia, particularly when family members or caregivers are included. The opportunity to interact with others while doing a favorite puzzle is a benefit—even more so for individuals who feel lonely or isolated.
Scrabble: This classic board-and-tile game offers an excellent way for individuals in the initial stages of dementia to keep their minds active as they try to form words. Strategizing, recalling vocabulary, keeping score, and interacting with game partners can all contribute to creating a fun activity for family members and caregivers. For more information about Scrabble games, visit https://scrabble.hasbro.com/en-us/toys-games.
Jigsaw Puzzles: Jigsaw puzzles can help increase focus as players apply spatial processing and problem-solving skills to match and fit pieces together. Scheduling daily or weekly jigsaw puzzle sessions that include caregivers or family members can provide much-needed social interaction. When selecting jigsaw puzzles, consider the person's ability level, skill, stage of dementia, and preferred puzzle themes. The Puzzle Warehouse offers a line of Alzheimer's Jigsaw Puzzles with large puzzle pieces and Target also offers an assortment of jigsaw puzzles at reasonable prices.
Dominoes: Playing dominoes is a great hands-on activity that helps players improve focus as they search for patterns and match tiles. A game of dominoes can aid concentration and even short-term memory. Playing with others also offers social interaction, which has a positive impact by reducing social isolation. Which set to buy? How about Giant Magnetic Dominoes sold by Lakeshore®? This set of colorful, large-sized magnetic dominoes can be purchased online. The tile size makes the game easier to visualize.
7. Activity Books
Activity books can help decrease boredom and anxiety in individuals with memory loss or dementia. Providing the right type or level of activity to meet the person's abilities can help keep them mentally focused and relaxed. Coloring books, paint books, and crossword puzzle or word search booklets can reduce stress and provide enjoyment and even a sense of accomplishment. 
8. Coloring Books
Coloring pictures with colored pencils or crayons can offer stimulation and enjoyment to persons with dementia. Coloring may also help with concentration, hand-eye coordination, and fine motor skills. Also, completing a picture will give the person a sense of accomplishment. Before purchasing a coloring book, always consider the person's interests, stages of dementia, and visual and physical limitations. To reduce frustration or boredom, try to buy coloring books that meet the person's needs and skills.
Coloring books, including some in large print, are available at Barnes & Noble and The Alzheimer's Store
9. Workbook with Multiple Activities
Solving mazes, playing Sudoku, and completing word search activities can be mentally stimulating and relaxing for many, especially if the workbook meets the person's skill and ability levels. Loved ones who enjoyed these types of activities when they were younger may be encouraged to try them again later in life. Barnes & Noble offers an activity workbook that includes multiple activities in one workbook
Activity workbooks can also be found on The Alzheimer's Store website and on Amazon.
10. DVDs: Television Shows, Programs, and Films
Purchasing DVDs of favorite television shows, sports programs, or movies from years past can bring back smiles and warm memories to those living with Alzheimer's and other forms of dementia. Before buying DVDs, make sure to get your loved one's input as to their favorite television series, sports programs, movies, and films. The list below includes some popular choices from the 1950s, 1960s, and 1970s.
The availability of many of these products may change. Also, before purchasing an item online, always visit legitimate retail sites, and be cautious about reviews, especially during the holiday season.
11. Digital Photo Album
A digital photo album is another great gift for a person with dementia. It can be filled with photos of friends and family members, places they like to visit, familiar places in their community, and other things that stir memories and nostalgia when they look at it. If you notice that there are certain time periods in their lives they tend to remember better and reminisce on more, you can set up the picture frame to display photos from those time periods.
Final Thoughts on Buying Gifts for a Loved One with Dementia
Before selecting a gift, always consider the person you are giving the gift to, especially when the item is for a loved one with progressive dementia. Identifying the person's preferences, current needs, and medical conditions can help you choose a gift they will be able to use and enjoy.
Providing companionship, making sure loved ones do not feel lonely, showing that you care, and telling them that you love them are the best gifts—all year round.
If you are caring for a family loved one who needs specialized dementia care services and daily companionship, Senior Helpers Orlando can help. Our dementia-trained caregivers can assist with daily living activities while also providing much-needed companionship for persons living with Alzheimer's disease or other dementias. Senior Helpers Orlando provides senior in-home care and Alzheimer's care services in Orange, Osceola, and Seminole counties. Call Senior Helpers Orlando at (407) 628-4357 or fill out a form and we will get back to you by the next business day.