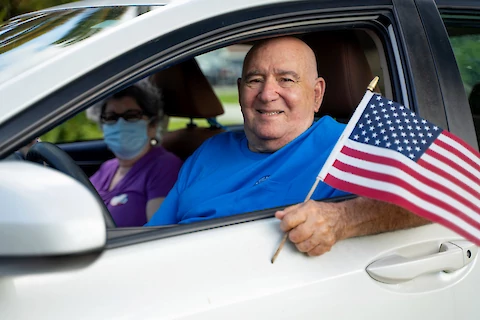 Memorial Day is a great time to honor and remember the brave men and women who have served our country. As seniors, you have a wealth of knowledge, experience, and community connections that make you instrumental in organizing and supporting Memorial Day events and programs. At Senior Helpers Orlando, we celebrate your valuable contributions and encourage you to engage in local activities this Memorial Day. 
Idea 1: Organize a Flag-Raising Ceremony
Flag-raising ceremonies are an essential part of Memorial Day and remind us of the sacrifices made by our armed forces. Seniors can play a significant role in organizing these events by contacting local veteran organizations, coordinating with community leaders, and ensuring that the ceremony takes place smoothly.
Idea 2: Volunteer at a Local Veterans' Cemetery
Maintaining veterans' cemeteries on Memorial Day is a meaningful way to show gratitude to our fallen heroes. Seniors can volunteer at local veterans cemeteries like Florida National Cemetery around Memorial Day. 
Idea 3: Coordinate a Memorial Day Parade
Memorial Day parades are a long-standing tradition that honors the sacrifices of our nation's heroes. Seniors can help organize a parade by contacting local veteran organizations, schools, and community groups to participate. Coordinating logistics, promoting the event, and managing volunteers are other essential tasks seniors can help with if you want to contribute to an existing parade.
Idea 4: Organize a Veterans Appreciation Luncheon
Showing appreciation to veterans on Memorial Day is crucial, and a luncheon is a great way to do so. Seniors can help by contacting local restaurants for catering, coordinating with veteran organizations, and inviting guest speakers to share their experiences. A luncheon can be great for veterans to come together and talk about fallen comrades. 
Idea 5: Assist with a Memorial Day Concert or Performance
Music and performances play a significant role in Memorial Day celebrations, and seniors can volunteer to help make these events successful. Whether it's coordinating with local schools, community centers, or veteran organizations, seniors can assist with organizing and managing the concerts or performances. Pay attention to local events to better understand where you can volunteer.
Idea 6: Create a Memorial Day Display or Exhibit
Educating the community about the history and significance of Memorial Day is vital. Seniors can create a display or exhibit by gathering historical artifacts, contacting local museums for assistance, or organizing a team of volunteers to help set up and manage the exhibit.
Idea 7: Coordinate a Memorial Day Wreath-Laying Ceremony
Wreath-laying ceremonies are essential in honoring the memory of our fallen heroes. Seniors can organize these events by contacting local veteran organizations or schools, coordinating with local authorities, and gathering necessary materials.
Idea 8: Organize a Memorial Day-themed Fundraiser
Supporting veteran organizations and programs is an essential aspect of Memorial Day. Seniors can make a difference by organizing a fundraiser, coordinating with local businesses, putting together a team of volunteers, and promoting the event to ensure its success.
Idea 9: Volunteer at a Local Veterans Hospital or Clinic
Providing support to veterans and their families on Memorial Day is an excellent way for seniors to give back. In Orlando, Winter Park, Apopka, and Kissimmee, seniors can volunteer at local veterans hospitals or clinics by visiting patients, assisting with activities, or providing transportation for those in need.
Get Help at Home as You Help in the Community
Seniors play an essential role in contributing to the spirit of Memorial Day by participating in and organizing various events and programs. We at Senior Helpers Orlando applaud and support your involvement in honoring and remembering our nation's heroes. If you're a senior living in Orlando, Winter Park, Apopka, or Kissimmee and need more help at home or staying involved in the community, reach out! We can help with your in-home care needs and more.