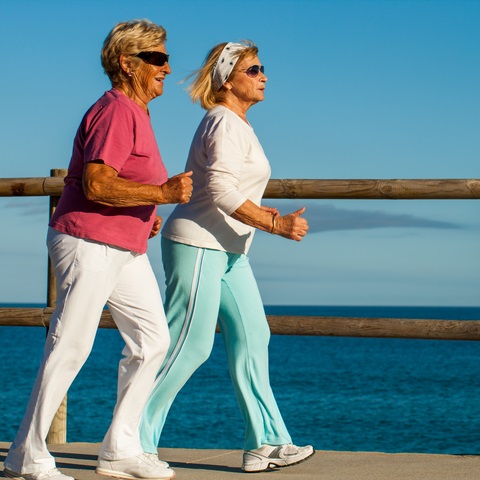 Want to reduce caregiver stress and promote overall health? One solution is a daily walking routine that incorporates social interaction. Family caregivers can reduce stress and burnout with daily walks while enhancing social interactions with a walking partner or larger walking group.
Isolation and stress affect not only adults living alone but also older family caregivers, who often care for a spouse or loved one singlehandedly and with little support from other family members, who may not live nearby.
More social interaction among older adults may reduce the risk of stroke, lower depression, and lessen mental decline. In a recent study, published in the journal Heart, isolated and lonely individuals were found to be at an increased risk of stroke. In another study, loneliness and depression were deemed "related risk factors" for cognitive decline in older adults. The study was published in the International Journal of Geriatric Psychiatry.
Staying active by going on walks can also reduce the risk of premature death, researchers reported in a study published in the American Journal of Preventive Medicine (AJPM), so combining social interaction and walking may provide two-fold advantages to enhance the quality of life of older adults and family caregivers.
Family caregivers can reduce stress and burnout by getting out of the house and walking with a partner or larger organized group. Staying physically active and socially engaged offers a double advantage to a family caregiver.
If caregivers are unable to take loved ones along, or if the persons they are caring for cannot be left alone, they can enlist a support team of family members, longtime friends, or licensed and trained caregivers to step in and provide care for an older spouse or parent. Verifying schedules and preparing in advance for companion care, including reliable caregivers, reduces caregiver stress.
Older adults being cared for may also benefit from a more dynamic daily schedule that includes activities outside the home and increased social interaction. The same is true for loved ones who use wheelchairs or other assistive devices. Limiting access to outside activities may negatively impact the quality of life of family caregivers and older adults being cared for at home.
Steps for starting an exercise program for family caregivers and adults in their care
Family caregivers
• Check with a physician before starting an exercise program and ask for a fall-risk assessment. Invest in well-fitting exercise shoes that meet activity requirements.
• Identify the best time for daily walks or group exercise activities. Set a schedule in advance. Also, make alternative plans in case the weather prevents outdoor exercise.
• Start slow and pace yourself. If you haven't exercised in a while, it never hurts to seek the guidance of a reputable trainer or occupational or physical therapist. Check references and ask your doctor for a referral.
Older adults receiving care at home
• If an older adult is being cared for at home but is able to join some daily exercise routines and can match the family caregiver's pace, encourage his or her participation; however, make sure that older adults talk with a physician before starting an exercise program.
• Modify activities and time spent on outings to accommodate the needs and limitations of an older adult or patient with a progressive illness. If modifications are essential, get help from a trained companion caregiver who can go along and assist a family member who has limited mobility, is a fall risk, or uses an assistive device.
• When selecting a park, nature trail, or another venue, choose areas that are familiar or have a more relaxing atmosphere for loved ones with dementia. Families and older adults will have a more enjoyable, less stressful outing if a family member with memory loss is not anxious or confused during an outdoor activity.
• If a patient cannot leave home or is bed bound, enlist the help of a home healthcare agency to provide services and assistance while the family caregiver enjoys his or her daily exercise. Providing loved ones with the opportunity to be around other caregivers, early on, may reduce anxiety and confusion when a family caregiver is absent, needs to run an errand, or is taking daily exercise.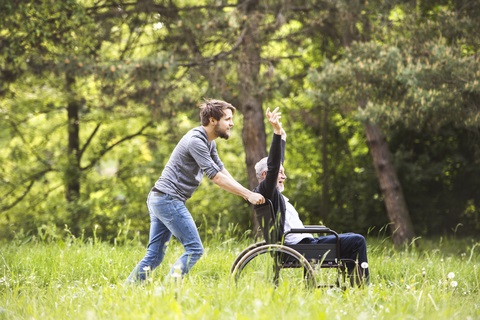 Local parks, trails, and exercise programs
Go on daily walks or jogs, hike a Central Florida trail, or partner with a group of friends and take morning or evening walks at nearby parks. Having someone to talk with while walking is both entertaining and provides much-needed social interaction. Check local walking or running groups in your area. If you are starting to exercise and are interested in joining a beginner's walking or running program, check out Track Shack's Zero to Fit program. Their next Zero to Fit 10-week session begins in August. Zero to Fit is for adults interested in running and walking to improve their fitness and health. (Check with your physician before signing up or registering for an exercise program.) Exercise such as walking, hiking, or jogging improves emotional wellbeing and will reduce caregiver stress.
Check out local trails and parks in Orange County. If you live in Seminole or Osceola county, you can also venture out to their many tree-lined trails and parks. Find a companion or a group of friends to go along. Converse as you walk or enjoy the sound of nature. Keep your eyes ready to spy the local birds, native bushes, and wildflowers. Your mind will focus on something different, far from caregiver stress. Enjoy the quiet beauty of a nature trail. These gifts are in front of our eyes, ready to be enjoyed with loved ones and friends.
Should you need assistance in caring for a loved one and would like to inquire about home health care services, call Senior Helpers Orlando at (407) 818-1308 or (407) 818-1315. We will be glad to schedule a meeting at your earliest convenience. Senior Helpers of Orlando provides Alzheimer's care and home health care services in the counties of Orange, Osceola, and Seminole.
Ana P. De Lane
Senior Helpers Orlando Team Member
References and resources:
Social isolation and loneliness as risk factors for myocardial infarction, stroke and mortality: UK Biobank cohort study of 479 054 men and women; Hakulinen C, Pulkki-Råback L, Virtanen M, et al; Heart; published online March27, 2018; retrieved from http://heart.bmj.com/content/early/2018/03/16/heartjnl-2017-312663
Loneliness, depression and cognitive function in older U.S. adults. International Journal of Geriatric Psychiatry; Donovan, N. J., Wu, Q., Rentz, D. M., Sperling, R. A., Marshall, G. A., & Glymour, M. M.; published May 9, 2016; retrieved from https://onlinelibrary.wiley.com/doi/abs/10.1002/gps.4495
Walking in Relation to Mortality in a Large Prospective Cohort of Older U.S. Adults;
Patel A.V., Hildebrand J.S., Leach C.R., Campbell P.T., Doyle C., Shuval K., Wang Y., Gapstur S.M.; American Journal of Preventive Medicine; published October 19, 2017; retrieved from https://www.ajpmonline.org/article/S0749-3797(17)30460-9/fulltext
Zero to Fit Program; Track Shack; retrieved May 6, 2018, from http://www.trackshack.com/page/52
http://www.ocfl.net/CultureParks/Parks.aspx#.WvLkK6Qvz3i
http://www.seminolecountyfl.gov/departments-services/leisure-services/parks-recreation/
http://www.osceola.org/agencies-departments/parks/