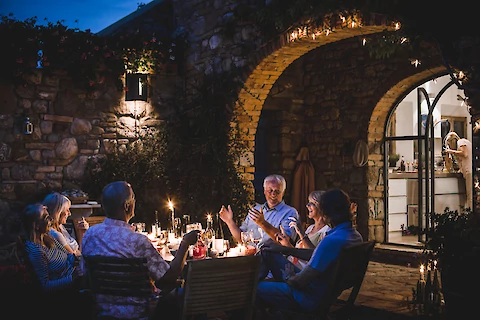 Fewer things are more enjoyable than having family and friends over for a fun evening of food and conversation. If you are an older adult in the Miami Beach area and are considering planning a dinner party, you might have some concerns. It's natural to want everyone to enjoy a relaxed evening.  You might feel a little bit uncomfortable at the prospect of your caregiver being present. However, there's no reason why everyone can't have a fabulous time. Here are some tips for ensuring that your dinner party goes off smoothly and without awkwardness.
Give Your Caregiver the Evening Off
Your caregiver is a big part of your day-to-day life. However, you may feel uncomfortable with the idea of your caregiver being present at your dinner party. It's perfectly acceptable to ask them if they would like to take the evening off. He or she will understand if you want to enjoy some time alone with your friends and will work with you to ensure that the evening goes smoothly.
Let Your Family Know About Your Caregiver's Presence
If you want your caregiver to be present at your party or gathering, you should consider preparing your family and friends ahead of time. Let your guests know that your caregiver is an important part of your life and will be attending the party. Your caregiver may not join in the festivities and keeps to the background while you take center stage. Alerting your guests before they arrive at your residence is a great way to avoid any potential awkwardness.
Don't Be Afraid to Include Your Caregiver in Dinner Parties
Inviting your caregiver to your dinner party is a wonderful way to strengthen the bond that the two of you have. It could allow you the opportunity to learn more about them - and introducing your caregiver to your family and friends might be a truly wonderful experience. Increasing your social circle by including your caregiver in your dinner party plans is something to consider. At the end of the day, you should do what you are comfortable with. This might even include planning your party at a local restaurant rather than in your home. Sometimes, a change of scenery can be good for everyone involved. Having your dinner party at a restaurant is also a good opportunity to explore the area around you.
Learn More About Senior Helpers
Whether you want to invite your caregiver to your dinner party or coordinate the evening to allow some privacy for your friends and family, your caregiver will work with you to make sure that everything goes smoothly. After all, your caregiver wants to enhance your life so that you can enjoy all of your favorite activities.
Senior Helpers of North Miami is dedicated to providing the very best home care services. We serve clients all around the Miami area, providing the link between caregivers and older adults who want to enjoy their lives and all of their favorite hobbies. If you want to learn more about Senior Helpers and the services that we offer, contact us today!