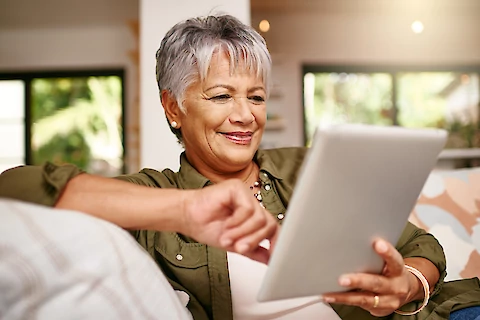 Ultra-rapid advances in technology are making it increasingly difficult to stay abreast of the latest online threats. This is especially true for older device and platform users who are hardly "tech-savvy". Social media platforms, gaming apps, and video hosting sites provide outstanding opportunities to socialize. However, they're not always ideal for vulnerable demographics. Your loved one may rely on the web to stay connected. But there are several technologies that prioritize the safety of older users. These are products and services that allow for easy, convenient, and completely worry-free interactions. In fact, the three technologies that follow are designed specifically to promote fun and safe online interactions for seniors.
1. Joy for All
According to Cleveland Clinic, having a pet of any kind can protect an older person's brain health and boost their mood. Pets can greatly enrich the lives of aging adults in retirement. They give them someone to care for and provide constant companionships. However, it isn't always possible for Miami Beach, Florida residents to have pets in their homes. Moreover, as mobility and cognitive changes arise, meeting the needs of a live pet could prove too challenging for some. 
Joy For All is designed to make pet ownership possible for older people who don't have adequate living space. It is also for those who cannot stay on top of regular vet visits, feedings, and walks. Joy For All provides animatronic birds, cats, dogs, and other animals for seniors that are lifelike, artfully designed, and incredibly responsive. These highly interactive pets provide ease of care and pair seamlessly with technology for increased convenience and sharing. 
2. Alexa Care Hub/Alexa Together
Amazon's Alexa has become a standard fixture in many U.S. homes. However, if you have an older adult in your life, you may want to learn more about the Alexa Care Hub/Alexa Together feature. This supplemental service streamlines Alexa's functions to perfectly meet the needs of aging adults. With the Echo device installed in their homes, seniors can connect their Alexa service to the mobile phones of family members. This setup will allow you to verify when your family member has engaged with Alexa so that you know they're up and moving. If your senior loved one ever says, "Alexa, call for help", you'll receive a text, call, or other notification. Care Hub/Alexa Together creates a safe and reliable connection between aging adults and outside family members so that getting in touch is both convenient and absolutely risk-free.
3. GrandPad
Staying connected when you aren't tech savvy is made easier with the GrandPad. The GrandPad is a simple, user-friendly tablet that blocks spam calls, robocalls, unwanted email messages, and other forms of spam. It offers a vast range of secure apps. It also has an easy-to-use interface that includes large, colorful buttons, large-sized fonts, and an easy-to-navigate layout. If staying connected digitally is too challenging for your older relative due to complicated smartphones or other devices, the GrandPad is a worthwhile investment. 
Safe Interactions With Senior Helpers
At Senior Helpers of Miami, we recognize the value of being able to socially engage throughout the golden years. As new advances are made in technology that makes digital connections safer, more enjoyable, and more convenient for seniors, we're also providing the supplementary help that aging adults need to maintain optimum life qualities. With our companion care and wellness watch services, we ensure that decreases in mobility, changes in cognitive functioning, and other age-related challenges are being supported by our trained, professional caregivers. To find out more about our services or to schedule a consultation, contact us today.