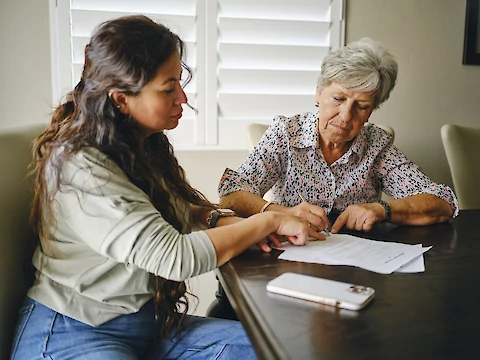 How to Have Conversations About Living Wills and Power of Attorney
Living wills and power of attorney are necessary for seniors to plan for the future without having their loved ones guess their wishes. It can be difficult, however, to start a conversation about this topic. Senior Helpers Jacksonville, an in-home senior care company serving seniors in the Jacksonville, Beaches, Arlington, Ft. Caroline, San Marco, Southside, Mandarin, Fernandina Beach, Ponte Vedra, and Yulee areas, has compiled what you need to know about how to discuss living wills and power of attorney.
How to Initiate a Conversation About Living Wills and Power of Attorney
When initiating these conversations, it is important to set a respectful tone. Your senior loved one must be able to express themselves comfortably while understanding that they are supported. Start by asking questions like "Do you have any plans for the future?" or "What would you like me to help you with when making decisions about your healthcare?" Take time to hear their concerns and questions during this conversation. 
Pick an Appropriate Time 
The best way to ensure an open dialogue with seniors is by picking a suitable time that works well for their schedule. Make sure the environment is calm and inviting before embarking on such emotionally charged topics. Ensure that enough time has been allotted in order not only to speak but also to make thoughtful decisions. Rushed conversations might lead someone into making choices they later regret due to stress or tiredness. Having plenty of privacy in the house helps facilitate open discussions better than being in public places—consider arranging stay-over options if needed!  
Understand Your State Laws 
Take the time to look into any particular state laws and guidance regarding living wills and power of attorney. This will help you and your senior loved one understand all of the options. Do your research ahead of time so that everyone can be informed and, therefore, more comfortable. 
Set the Tone 
Creating trust is essential to ensure both parties feel comfortable discussing sensitive matters like living wills and granting power of attorney. Stay focused on the task at hand by providing encouragement during moments of discomfort, being an active listener, and allowing others space when necessary. All these things help keep lines of communication open and transparent. Setting up frequent check-ins about decisions made also helps create awareness ahead of time, heading off any potential issues and minimizing the chance of miscommunication.
Address Questions and Concerns 
It is inevitable that questions or concerns will pop up regardless of how well a conversation has been set up. It is necessary to be patient and reliable when addressing such queries—this can make a major difference in terms of the time taken to get through these decisions together! Lastly, always double-check that all paperwork has been filled out correctly. 
Senior Helpers Offers Premium In-home Caregiving Services  
Conversations about serious topics can be challenging. With the right approach and preparation, however, discussing living wills or power of attorney can be made more manageable for everyone involved. Senior Helpers Jacksonville understands how important these conversations are to ensure that seniors feel taken care of during difficult times in their lives. Contact us today to learn more about the services we offer!