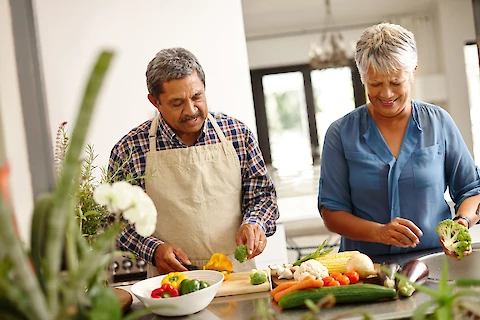 Meal prep and meal planning both provide unique benefits to seniors who want to maintain a nutritious diet. Meal prep involves cooking and portioning meals ahead of time for the days or weeks ahead, whereas meal planning involves creating balanced plate selections in advance. Below, we will outline the advantages and disadvantages of each approach so that you can decide which one is best for you.
Differences Between Meal Prep and Meal Planning
Meal prep can involve meal planning, but the two terms are slightly different. With meal prepping, you cook and portion one or several meals ahead of time for quick consumption at a later date. This is a great option when you have little time to cook throughout the week. Meal planning includes grocery shopping in advance and creating an individualized plate selection of proteins, carbohydrates, vegetables, healthy fats, and other nutrients for each meal of the week or even the month. 
Advantages of Meal Prep
Meal prepping offers many advantages to seniors. The biggest benefit is that it allows you to easily manage and control your diet, such as by limiting portion sizes or avoiding certain ingredients. It also reduces the amount of meal prep time, which can be a huge stress reliever for those on a tight schedule. Meal prepping can also help you save money by letting you buy groceries in bulk and cook only what is needed for the week ahead. 
Are There Any Disadvantages?
Though meal prep does offer many advantages, there are a few potential downsides as well. Because you are cooking in bulk and preparing meals ahead of time, there is less variety within each week, which can be dissatisfying for some. And if it's not done properly, food could spoil quickly or get overcooked, wasting precious ingredients.
Advantages of Meal Planning
Meal planning can help ensure you're receiving enough of the essential nutrients your body requires. By researching what types of meals contain the vitamins and minerals that meet individual dietary requirements, you can create a meal plan tailored uniquely to your body's nutritional needs. You also have more control over food selections, meaning there is greater variety in dishes each week. Meal boredom becomes a non-issue. Plus, careful budgeting when meal planning can help save money by reducing waste and sticking only to necessary ingredients.
Are There Any Disadvantages?
Meal planning does require setup and a bit of extra time for research, shopping, and organizing. It is also more difficult to do meal spacing, where multiple meals are cooked at once and portioned into individual servings since it is a more customized process.
Contact Senior Helpers Fort Myers Cape Coral
Either option can be worthwhile. It all depends on what you prefer and how you want to spend your time. You may even opt for a combination of the two. If you live in Fort Myers (including Fort Myers Beach and North Fort Myers), Lehigh Acres, Punta Gorda, Sanibel, Captiva, or Cape Coral and need assistance with meal prep or planning, Senior Helpers Fort Myers Cape Coral is here to help! Our caregivers have the experience necessary to offer care that suits your lifestyle. Get in touch with us today to learn more about how we can help you meet your dietary needs and care requirements.