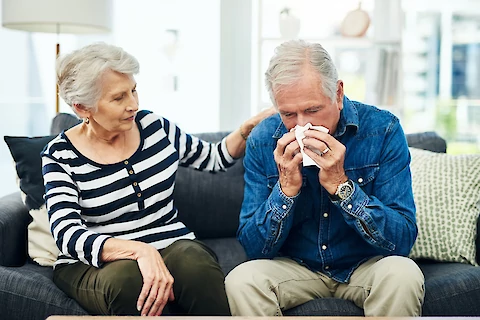 Allergies In The Elderly: Causes, Symptoms, & Treatments
Allergies are nothing to sneeze at. The effects of allergies can range from mild to severe depending on the cause and symptoms. If you or a senior loved one is finding that allergies are getting in the way of enjoying life, Senior Helpers Fort Myers is here to help. In this guide, we'll explore the causes, symptoms, and treatments for allergies in seniors so that you can keep doing what you love without coughing, wheezing, or watery eyes. 
How Prevalent Are Allergies in Seniors?
Allergies are more common among seniors than you might think. In this age group, researchers report that rates of allergies and asthma have increased significantly over the past few decades. In fact, Americans over 50 make up one of the fastest-growing segments of those who experience allergies. 
Health Complications From Allergies
If your allergies go untreated, the symptoms can often worsen and even lead to more serious health complications, such as sinus infections and bronchitis. These medical conditions are especially worrisome for seniors, since your immune system weakens over time. Thankfully, there are many steps you can take today to avoid your allergy triggers and manage your allergy symptoms so you never have to worry about these health complications!
Common Causes of Allergies in Seniors
There are a variety of potential things that might trigger your allergies. Common examples include dust mites, pollen, dust, mold, pet dander, and certain foods. It's important to take note of what you were doing, where you were, or what you were eating to see what you're allergic to. You can also talk to your doctor and get tested for common allergens, taking the guesswork out of the process. 
Common Symptoms of Allergies
Seniors with allergies may experience a variety of symptoms, including a runny or stuffy nose, itchy eyes, sneezing, coughing, and wheezing. Skin reactions, such as redness and itching, are also possible. 
4 Ways to Manage Your Allergies
If you or a senior loved one is sneezing and coughing, the following tips and tricks can help you reduce your allergy symptoms and prevent future allergic reactions.
1. Get an Air Purifier
An air purifier is an easy and effective way to reduce the number of allergens in your home. Air purifiers use household filters to capture particles such as dust, pet dander, and pollen before they enter the air. A HEPA filter (high-efficiency particulate air filter) is best for capturing airborne allergens. 
2. Clean Your Home
Cleaning your home regularly can help reduce allergens and trigger fewer symptoms. We recommend vacuuming twice a week and washing fabrics like curtains, bed linens, and pillows in hot water to reduce dust mites. If you or a senior loved one has pets, make sure to brush them outside or in an area with good ventilation. 
3. Take Over-the-Counter Allergy Medication
Over-the-counter allergy medications can provide relief and come in many forms, including pills, eye drops, nasal sprays, and inhalers. Don't forget to talk to a medical professional, especially if you have pre-existing medical concerns or if you're already on other medications. 
4. Try Immunotherapy For Allergies
Immunotherapy contains small doses of what you're allergic to and works by gradually introducing the allergen into your system so that your body becomes less sensitive to it over time. Your doctor may recommend this form of therapy if other treatments aren't providing relief. 
Senior Helpers Fort Myers Offers Personalized In-Home Care
At Senior Helpers Fort Myers, our team of licensed and trained professional caregivers are dedicated to helping you with managing allergies! If you or your loved one needs assistance with maintaining an allergy-free environment or managing allergy symptoms, contact Senior Helpers Fort Myers today to learn more about our services. Whether it's housecleaning, medication reminders, or more specialized support like chronic disease care, our team proudly serves seniors throughout Fort Myers, Cape Coral, Fort Myers Beach, North Fort Myers, Lehigh Acres, Punta Gorda, Sanibel, and Captiva, FL.