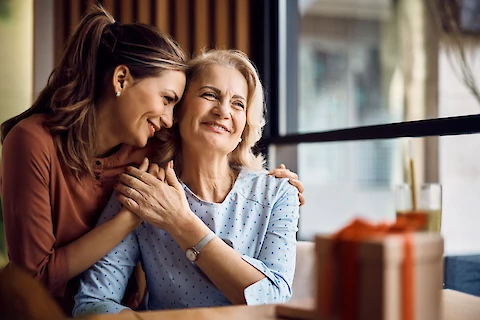 Mother's Day is a special occasion to celebrate and honor the wonderful moms in our lives, especially true for our senior moms. As an adult child, planning a safe and enjoyable celebration for your senior mom may feel challenging, but it doesn't have to be! 
Precautions Related to COVID-19 and Other Health Issues
Consider the precautions needed in light of COVID-19 and other health-related concerns. You want to stay updated on the guidelines and restrictions in your area to make informed decisions about your celebration. If you plan an in-person gathering, ensure all attendees are vaccinated or have taken a recent COVID-19 test. Taking extra precautions would be wise, especially for seniors with compromised immune systems or other health issues.
Plan Engaging Activities That Aren't Too Strenuous
You want to avoid activities that are too physically taxing for your senior loved one. The key is to consider the interests and hobbies of your senior mom. Choose activities that promote mental stimulation, social interaction, and light physical activity. For example, you can organize a board game marathon, a storytelling session where each family member shares a cherished memory, or a painting or crafting workshop. 
Consider Dietary Restrictions When Planning a Meal
When it comes to planning the meal, take into account dietary restrictions. Be aware of any allergies or necessary meal modifications your senior mom may have, and prepare a delicious and nutritious menu. One way to make the meal even better is by incorporating some of her favorite dishes or trying a new recipe together. 
Make the Environment Comfortable and Accessible for Seniors With Mobility Issues
An essential aspect of hosting a Mother's Day celebration for seniors is ensuring a comfortable and accessible environment. If your mom uses a wheelchair, make sure the venue is wheelchair-friendly. Provide ample seating options and cushions for added comfort, and keep noise levels low to avoid causing discomfort for seniors with hearing issues. Additionally, make sure the lighting is adequate for seniors with vision problems.
Explore Some Fun-Filled Ideas for a Special Mother's Day
With the basics covered, it's time to explore some fun-filled ideas to make your celebration really memorable. One lovely way to honor your senior mom is by creating a personalized photo album or slideshow featuring cherished memories from her life. These options can be a heartwarming trip down memory lane that she can treasure for years. 
If your mom has a favorite movie, period, or travel destination, consider hosting a themed party based on her interests. A themed party can be a delightful way to immerse her in the world she loves, sparking fond memories and conversations. To add extra excitement to your celebration, you could invite a local musician or entertainer to perform a private show for the family or even arrange a surprise visit from a long-lost friend or family member.
Senior Helpers Fort Myers Cape Coral Loves Helping Seniors Celebrate Mother's Day
In conclusion, planning a safe and enjoyable Mother's Day celebration for your senior mom requires creativity, love, and attention to detail. Use this guide as a starting point and customize the ideas to suit your mom's unique personality and preferences. If you're in Fort Myers, Cape Coral, Fort Myers Beach, North Fort Myers, Lehigh Acres, Punta Gorda, Sanibel, or Captiva, and need help planning and hosting your celebration, reach out to Senior Helpers Fort Myers Cape Coral. Our dedicated team is here to make your Mother's Day extra special and ensure your senior mom has the time of her life.