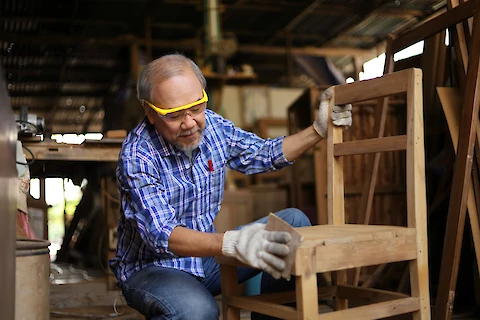 For seniors who are retired or adjusting to new routines, it can be a challenge to find things to stimulate their interest. Engaging in DIY (Do It Yourself) projects is one such activity that can offer a range of benefits to seniors of all abilities and interests. Read on for more information from Senior Helpers Clearwater about how DIY projects enhance cognitive function in old age and boost self-confidence among seniors.
DIY Projects Can Enhance Seniors' Cognitive Function
There are many proven benefits to engaging in DIY projects. The process of creating a project from start to finish requires problem-solving skills as well as the ability to turn abstract ideas into concrete actions. For seniors with cognitive difficulties, this can be a way to exercise their minds and improve their mental sharpness. This could also allow them to make decisions more quickly and independently manage everyday tasks without getting overwhelmed or simply forgetting the steps involved. Ultimately, there are many reasons why senior adults should give DIY a try.
Types of DIY Projects
DIY projects for seniors range from activities such as woodworking, cooking, gardening, and sewing to crafts like painting, sculpture, and jewelry-making. Depending on the skill level of the senior involved or the nature of their physical health, some DIY projects might require assistance to make them accessible. Baking is a fun DIY project that provides the additional benefit of being able to enjoy a tasty treat at the end of the project. With all of this in mind, bonding with family members over a mutually enjoyable activity can be a fun way to complete an interesting project together while strengthening cognitive abilities at the same time. 
Positive Social Effects of Completing a DIY Project
Completing a project involves a sense of accomplishment and pride, but for seniors in particular, it can be an incredibly important way to boost their self-confidence. Being able to independently complete something that they've set out to finish helps them be more independent overall. It might also give them the extra push they might need when facing uphill social or physical battles.
Socializing with family members while working on projects also allows seniors time away from being alone as well as providing opportunities for connections beyond simply leisure activities. 
Get Started on DIY With Senior Helpers
DIY projects can be the perfect way to reassert a sense of creativity and productivity in seniors' lives. Senior Helpers Clearwater encourages all our clients, as well as their friends and family to look for engaging DIY projects that fit into each of their particular lifestyles. With an opportunity for mental exercise as well as social connection opportunities, DIY can keep your senior loved ones both entertained and actively enhancing cognitive function!
Are you interested in getting some help with DIY projects for yourself or a senior relative? Contact Senior Helpers today to learn how we help adults in the Clearwater, Dunedin, Safety Harbor, Pinellas Park, Largo, and Clearwater Beaches areas thrive and grow.