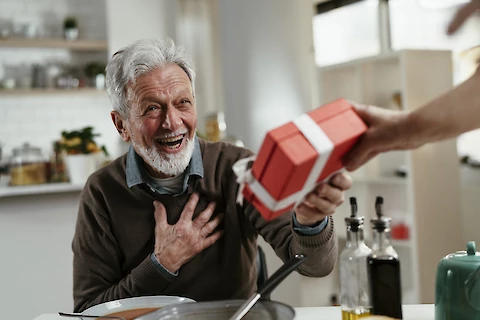 Great Gifts Ideas for Elderly Relatives Who Might Move to a Retirement Home in the Near Future
Holidays are a magical time of year when you have the opportunity to give gifts that show your love and appreciation for the people in your life, including your seniors. If your senior is in a situation that may find them moving into a retirement home soon, there is no better time than now to give them gifts that will help make that transition as smooth and seamless as possible. Senior Helpers of Clearwater, which serves the Clearwater, Dunedin, Safety Harbor, Pinellas Park, Largo, and Clearwater Beaches can also assist you with the transition, helping your seniors to move through the process of moving into a retirement home with ease. Take a look at our list of recommended gifts that will help your seniors as they adjust from their own homes to retirement homes.
Things to Keep Your Senior Warm
It can be chilly in retirement homes and many seniors get cold quickly. Even in Clearwater, where our weather is usually warm and sunny, it can be chilly at times. Soft, fluffy blankets and cotton outerwear are always great gifts to give. There are even wearable blankets that work to keep the person wearing them warm without being heavy or weighing them down. Slippers and socks with grip strips are also a great idea to keep your senior's feet warm and allow them to be comfortable whether they are inside or outside. Having items such as blankets, slippers, and warm jackets means seniors can often spend more time comfortably outside, chatting with other residents and soaking up the great outdoors.
Keepsakes You Make Together
A great gift for your senior is a keepsake you make together. Not only do you spend time with your seniors while you make it, but when they move into their room at the retirement home, they have something to smile about every time they see it. For example, photo albums or scrapbooks are a great way to capture memories, talk about some of the amazing things your senior has done and accomplished in their life, and learn and appreciate each other. Keepsakes that revolve around your seniors and their strength are a great way to foster positivity and create gifts both of you will appreciate.
Framed Pictures and Art
Framed pictures and artwork are some of the best gifts you can give your seniors. Retirement homes usually have limited amounts of space and items that can hang on a wall are perfect for creating atmosphere and charm in a place where space is limited. This is especially true if the pictures are memories and moments that bring your seniors joy and foster warm feelings in their hearts. Your senior's favorite piece of artwork is another great idea to help give their space some character and make it feel like "them."
Gifts to Not Consider
Just as there are gifts that are excellent choices for seniors who will be moving into a retirement home, there are gifts that are better to not consider. One such gift is the latest technological gadget. While some seniors enjoy the latest tech gifts and gadgets, many seniors find technology to be a huge source of frustration. Frustration is not good for your seniors or their caretakers. Another gift best left ungiven to your senior is foods they aren't supposed to have. Not only do these cause physical ramifications, but food that is not good for your senior affects their mood. Lastly, try to avoid gifts that require companionship. Those gifts may make seniors feel isolated and lonely when settling into a retirement home.
Giving Gifts for Seniors Who May Be Moving into Retirement Homes
Giving the right gift is everyone's goal this time of year. Finding the right gift for your senior who may be moving into a retirement home can be a wonderful opportunity to not only give them a gift, but one they will truly appreciate and will be helpful for them. Senior Helpers of Clearwater offers services to help your senior age in place, as well as make the transition into a nursing home. We are here to help and support your seniors, and you, in this stage of your lives. Contact Senior Helpers of Clearwater and see how we can help and support you and your seniors today.