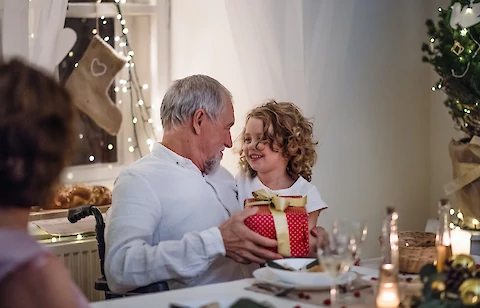 6 Gift Ideas for Temporarily Bedridden or Wheelchair-Bound Seniors
Being bedridden or wheelchair-bound can be emotionally and mentally straining, especially for seniors. Whether it's due to chronic illness, surgery, severe injury, or old age, the inability of an elderly loved one to leave their bed or wheelchair makes them lose much of their independence, freedom, and enjoyment of life.
Fortunately, there are many ways to help a senior loved one feel better. A small gesture such as getting them a gift may just be what is required to lift their mood and make their day. Additionally, getting them a gift can make them more comfortable, bring them joy, entertain them, and also help them forget about their current situation for a while.
6 Gift Ideas for Bedridden or Wheelchair-Bound Senior Loved Ones
Here are some thoughtful gifts that can help bring back life to a bedridden or wheelchair-bound senior loved one.
1. Bed/Lap Tray
A portable bed/lap tray can be super helpful for a wheelchair-bound or bedridden elderly loved one. The tray gives them a comfortable surface to work on their laptop, draw, write, eat or even watch movies without risking something falling over.
2. Magazines and Books
Magazines and books are powerful tools to keep boredom at bay. If a bedridden or wheelchair-bound loved one is keen or loves reading, getting them a new book or magazine can help them pass the time. An audiobook can also be an excellent gift for seniors unable to read standard print efficiently.
3. Snack Gift Basket
A basket full of a bedridden or wheelchair-bound elderly loved one's favorite snack items can help cheer them up. Since it's hard for them to go shopping at their local grocery store, they'll love that someone still thinks of them and their favorite food.
4. Backrest Pillow
Normal bed pillows do not offer enough support for seniors lying or sitting in bed all day. Getting them a backrest pillow that explicitly supports their posture when sitting up can help maximize their comfort level.
5. Weighted Blanket
There are a few things more cozy and comforting than a weighted blanket. This kind of blanket is machine washable and available in several colors, so it's easy to settle for a color that an elderly loved one will love. Furthermore, it helps to deal with sensory and anxiety issues, making a loved one more comfortable.
6. Wireless Headphones
Wireless devices (either wireless headphones or Bluetooth earbuds) make an excellent gift for a bedridden or wheelchair-bound loved one. When they go cordless, there's no danger of getting caught up in anything, giving them a great sense of boundlessness.
Bottom Line
In a nutshell, the thought and act of getting a gift for a bedridden or wheelchair-bound senior loved one can go a long way in boosting their mood and reminding them that someone cares. Additionally, it makes them feel less alone, reminds them of everything they love and most importantly, keeps them looking forward to what each day can bring.
Caring for a senior citizen who uses a wheelchair or is bedridden can be daunting, but it doesn't have to be stressful. At Senior Helpers Clearwater, we specialize in offering outstanding in-home care services to clients living in or around Clearwater, Dunedin, Safety Harbor, Pinellas Park, Largo, and Clearwater Beaches. Get in touch with us today to learn more about our services.