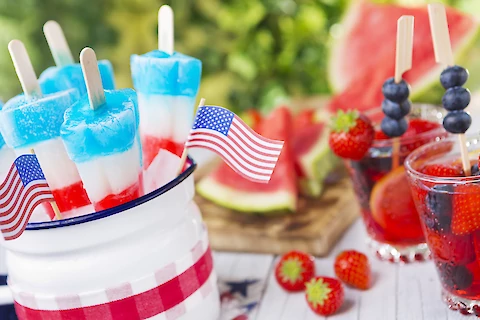 When we think of the Fourth of July, we envision fireworks, parades, barbecues, and of course, delicious desserts. But for our senior loved ones, especially those with dietary restrictions or health concerns, the sweet treats associated with this holiday can often be a challenge. Rest assured, celebrating our nation's birthday doesn't mean you have to compromise your health or miss out on all the goodies. Let's make this Fourth of July sweet, healthful, and memorable with some low-sugar dessert selections.
Importance of Low-Sugar Desserts for Seniors
Maintaining a balanced diet is crucial, especially as we age. For seniors, a high-sugar diet leads to weight gain and can exacerbate health conditions like diabetes and heart disease. That's why low-sugar, low-fat desserts are a delightful and healthy solution for senior citizens. Because, let's face it, no celebration is complete without a fun treat.
What's an Ideal Dessert for Seniors?
So, what makes a dessert ideal for seniors? In a nutshell, it's about finding the right balance between indulgence and nutritional value. You can easily transform typical desserts into healthier alternatives by swapping out certain ingredients and incorporating fresh fruits. These changes don't mean sacrificing the flavor. In fact, our suggested desserts below are just as delicious and festive!
Fresh Fruit Salad With a Twist
Imagine diving into a fresh fruit salad with a twist. A mix of strawberries, blueberries, and slices of star-shaped watermelon, red apples, or pears is positively refreshing. Plus, it looks quite festive, thanks to the colorful combination. Add a squirt of lime, a drizzle of honey, and a sprinkle of mint leaves, and you've got yourself a tangy, sweet delight.
Sugar-Free Berry Parfait
Layer Greek yogurt, a sugar substitute of your preference, and a mixture of blueberries and raspberries. The result is a visually appealing, creamy, and tart dessert that's high in protein and antioxidants.
Patriotic Jello Cups
Patriotic jello cups are a hit amongst those who enjoy a little wobble in their dessert. Made with sugar-free jello in red and blue, these cups can be jazzed up with a dollop of light whipped cream.
Red, White, and Blueberry Trifle
The grandeur of a red, white, and blueberry trifle never fails to impress. Layers of sugar-free pound cake, sugar-free vanilla pudding, and fresh berries make this a stunning centerpiece at any July 4th celebration.
Star-Spangled Fruit Skewers
Last but not least, for a bite-size treat, try some star-spangled fruit skewers. Thread berries and star-shaped pieces of watermelon or pineapple onto skewers. They're easy to handle, delicious, and fun to eat!
There's a Joy in Sharing Homemade Desserts
These desserts not only add color and flavor but also embody the spirit of the Independence Day celebration. Baking together or preparing these desserts can be fun, encouraging participation and reviving the festive mood. The joy of sharing homemade desserts adds a personal touch to the celebrations that store-bought ones just can't beat!
Senior Helpers Clearwater Can Help You Celebrate
These dessert ideas are not just for the Fourth of July. They can be enjoyed all summer long. The best part? They are guilt-free indulgences that align with a healthy diet.
If you're located in Clearwater, Pinellas Park, Dunedin, Safety Harbor, or Largo, and need more ideas or resources to support a healthy lifestyle for seniors, don't hesitate to contact us at Senior Helpers Clearwater. We are committed to helping senior citizens lead happy and active lives through premium senior care services. Have a safe, fun, and sweet Fourth of July!