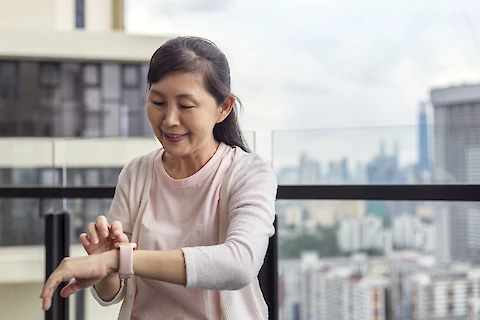 As we age, keeping track of our heart's well-being becomes essential. Modern advancements in wearable tech have made it easier than ever. This post is for seniors interested in better understanding their heart health and how wearable gadgets can help. With easy-to-use devices specifically designed for seniors, you'll have an easier time learning how to use them to your advantage.
Benefits of Using Wearable Technology for Heart Health Monitoring
Wearable technology has come a long way in recent years and offers numerous benefits for seniors looking to monitor their heart health. 
Detect Issues Early
One major advantage is the continuous monitoring these devices provide. It is easier to detect any potential issues early on. When wearing a device that keeps track of your heart rate, you can immediately address any irregularities or sudden changes.
Manage Pre-Existing Conditions
Additionally, wearable devices can be great for managing pre-existing heart conditions by helping you closely monitor your heart's performance. Your monitoring can provide valuable information to share with your healthcare professional and give them a more accurate understanding of your condition. It also enables them to make personalized recommendations for your care.
Motivation for Healthier Living
Another key benefit is the motivation these devices can provide for maintaining a healthy lifestyle. By seeing real-time data about your heart health, you will be encouraged to stay active and make better choices regarding diet and exercise.
Devices Designed Specifically for Seniors or Easy-to-Use Devices
When considering a wearable device for monitoring heart health, you should find one that is effective and user-friendly. Look for devices with a large display, a simple interface, a comfortable fit, and a long battery life. Here are a few recommendations:
Fitbit Charge 4
This popular wearable is well-known for its heart rate monitoring capabilities, sleep tracking, and user-friendly interface. It also offers reminders to move, ensuring you stay active throughout the day.
Apple Watch Series 6
The latest Apple Watch features advanced heart rate monitoring technology and an ECG app, allowing you to take an electrocardiogram right from your wrist. The large display and simple navigation make this device a solid choice for seniors.
Garmin Vivosmart 4
This slim fitness tracker is great for heart health monitoring. It tracks heart rate 24/7 and offers stress tracking and relaxation breathing techniques to help you manage your overall wellness.
Samsung Galaxy Watch Active2
This device offers comprehensive heart rate monitoring and a wide range of customizable features, making it a versatile choice for seniors.
Practical Tips for Using Wearable Technology for Heart Health Monitoring
Once you've chosen the right device for you, it's essential to integrate it into your daily routine. Wear the device consistently and set reminders to check your heart rate and other metrics daily.
Familiarize Yourself With the Collected Data
Take the time to familiarize yourself with the data your device collects, such as heart rate ranges and trends. Analyzing your data will help you understand your heart health better and allow you to identify areas where improvements may be needed.
Share Your Data With Healthcare Professionals
Don't hesitate to share your data with your healthcare professionals. They can help you interpret the information and provide guidance on any concerns or questions you may have.
Protect Your Personal Information
Lastly, ensure your privacy and security by protecting your personal information. Be cautious when using third-party apps, and always follow best practices for keeping your data safe.
Connect With Senior Helpers Clearwater
Using wearable technology to monitor heart health offers many benefits. By choosing a user-friendly device and integrating it into your daily routine, you can take control of your heart health and enjoy greater peace of mind.
Senior Helpers Clearwater can assist with managing heart health and overall well-being. If you or a loved one is living in Clearwater, Safety Harbor, Pinellas Park, or Largo, and would like assistance, contact us for compassionate and professional care.