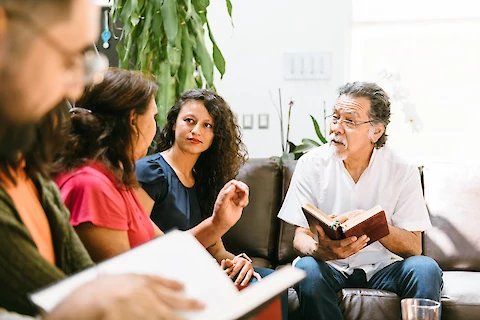 Summer is the perfect time to dive into a new book, especially for seniors who can highly benefit from the mental stimulation and relaxation that reading provides. But why stop at just reading? Joining a book club brings the joy of socializing, engaging in intellectual discussions, and discovering new books and genres you might not have considered before. In this blog post, we will guide you on how to find local book clubs in the Clearwater area so you can enhance your summer reading experience and connect with fellow book lovers. Let's begin the literary adventure!
Find Local Book Clubs
Before diving into some specific local book clubs, you must know where to look for them. 
Check With Your Local Library
One of the best resources is your local library. Librarians often have the most up-to-date information on book clubs in your area. Or, they may host a club themselves. Visit the Clearwater Main Library and ask about their list of upcoming events or whether they can point you in the right direction for a club starting soon.
Ask at a Nearby Bookstore
Another valuable resource is a bookstore. Many bookstores host book clubs, author events, and literary discussions. These events are an excellent opportunity to find a book club and support local businesses and authors.
Find an Online Resource
Online resources such as Meetup.com, Facebook groups, and Goodreads.com can help you discover book clubs in your area. You can search for local book clubs based on your interests, location, and preferred genres.
Examples of Local Book Clubs
Now that you know where to look, here are some examples of local book clubs to get you started:
Clearwater Public Library System
The Clearwater Public Library System offers the Mystery Book Club and Contemporary Classics Book Club, catering to those who love a good mystery or thought-provoking modern literature. They also offer special summer selections.
Dunedin Public Library
Dunedin Public Library hosts two book clubs. Page Turners Book Club discusses a wide variety of literature. The Afternoon Book Club is perfect for those who prefer daytime meetings.
Safety Harbor Public Library
Safety Harbor Public Library has the Words & Wine Book Club, which combines literary discussion with wine tasting, and the Books & Bagels Book Club for those who prefer breakfast treats with their reading.
Barbara S. Ponce Public Library
The Barbara S. Ponce Public Library hosts both an evening and afternoon book club. They also provide a banned books club. 
Tips for Choosing the Right Book Club
Make the most of your book club experience by choosing a group that fits you.
Consider the Genre
See if the book club you choose sticks with a particular genre each time or if they switch it up. Ensure it aligns with your interests so you'll be eager to participate.
See If It Fits Your Schedule
Evaluate the meeting frequency and location of the book club. Some groups meet weekly, while others have monthly gatherings. Consider if the meeting time and location are convenient for you and fit into your schedule.
Learn Their Discussion Style
Lastly, research the group's discussion style—see if it's a casual conversation or a more structured, guided discussion. Think about what kind of environment you prefer and feel most comfortable participating in.
Seek Companionship Through Senior Helpers Clearwater
Reading and joining book clubs provide seniors with numerous benefits. Experience mental stimulation, socialization, and the discovery of new books and genres. With plenty of local book clubs in the Clearwater, Dunedin, Safety Harbor, and Pinellas Park areas, you will surely find the perfect group to enrich your summer reading experience. If you need assistance with transportation to and from book club meetings or help to find the right book club, don't hesitate to reach out to Senior Helpers Clearwater. Contact us anytime for support or companionship. Happy reading!