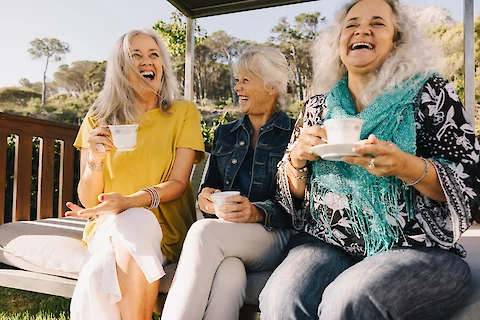 Mother's Day is a special time in the year when we honor and celebrate the incredible mothers in our lives. However, some people, unfortunately, do not have their adult children close by, and some may spend the day with their local friends instead. There are many great ways to make this day memorable with your friends, even if you live far away from your adult children.
In this blog post from Senior Helpers Clearwater, we'll share a fun list of suggestions for celebrating Mother's Day with your local friends in Clearwater and surrounding areas, creating new memories and traditions as the special day progresses.
Plan a Brunch or Lunch Event
Gathering friends for a meal is a great way to celebrate any occasion. For Mother's Day, you can host a potluck at home, inviting friends to bring their favorite dishes to share. Alternatively, visit a local restaurant with Mother's Day specials, such as Bon Appétit in Dunedin or Island Way Grill in Clearwater Beach. If you prefer a more relaxed outdoor setting, plan a picnic at a local park like Philippe Park in Safety Harbor or John S. Taylor Park in Largo.
Attend a Mother's Day Event
Community events can make celebrations even more special. In the Clearwater area, plenty of Mother's Day activities are available, such as the Mother's Day Tea at the Pinellas Park Historical Society, Mother's Day Weekend at the Florida Botanical Gardens in Largo, or a Mother's Day Brunch Cruise in Clearwater Beach.
Create Your Own Mother's Day Tradition
Why not start your own unique traditions for Mother's Day? Organize a craft or DIY project with your friends by painting pottery or arranging flowers at a local florist. You can also host a movie or game night, watch classic mother-themed movies, or play board and card games together.
Pamper Yourselves
Indulging in some self-care is a lovely way to spend Mother's Day. Visit a local spa, such as Botanica Day Spa in Clearwater or Serendipity Wellness Spa in Dunedin for a group treatment or a relaxing day to pamper yourselves. If you prefer a more intimate setting, host a DIY spa day at home by making homemade face masks and scrubs and giving each other manicures and pedicures.
Connect with Adult Children Virtually
Even if your adult children are far away, technology makes it easy to include them in your Mother's Day celebrations. Schedule a group video call to catch up and share stories or use social media to share photos, memories, and heartfelt messages for Mother's Day.
Senior Helpers Can Help You Make the Most of Every Holiday
Living far away from your adult children doesn't have to mean missing out on the joy of Mother's Day. Finding new ways to celebrate with your local friends can create cherished memories and lasting bonds in the Clearwater area. 
If you need assistance planning a special Mother's Day celebration or want more information on services for seniors, Senior Helpers Clearwater is here to help. Our dedicated team serves Clearwater, Dunedin, Safety Harbor, Pinellas Park, Largo, and Clearwater Beaches. Contact us today for more information on how we can make your Mother's Day extra special.