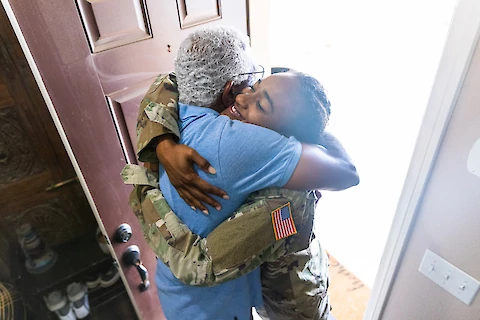 May is Military Appreciation Month - a time to honor and celebrate the brave men and women who served in our nation's armed forces. If you have adult children or in-laws who are veterans, this month presents a perfect opportunity to come together and show your love and support. 
In this blog post from Senior Helpers Clearwater, we'll explore a variety of fun and engaging ways to celebrate Military Appreciation Month right here in the Clearwater area, as well as a few virtual ideas for those separated by distance.
Local Activities in Clearwater and Surrounding Areas
Residents of the Clearwater area or surrounding locations like Dunedin, Safety Harbor, Pinellas Park, Largo, or Clearwater Beaches, have access to various local activities and events that honor our military heroes. Attending a local event or parade with your veteran family member is a great way to show your appreciation and support. 
For example, the Clearwater Veterans Appreciation Day offers a day full of festivities, music, and a chance to connect with other military families. Alternatively, consider attending the Dunedin Memorial Day Parade as another means of commemorating the service of our armed forces.
Exploring a local military museum or memorial together can also be an informative and bonding experience. The Armed Forces History Museum in Largo provides a unique opportunity to learn about the history and sacrifices made by our country's heroes. Similarly, Veterans Memorial Park in Safety Harbor is a serene place to pay respects and reflect on the bravery and commitment of our service members.
Enjoy Outdoor Adventures
Outdoor activities create a chance to bond and offer the opportunity to enjoy Florida's beautiful weather. Consider taking a walk or having a picnic at a local park, like Philippe Park in Safety Harbor. Its picturesque scenery and fresh air make for a lovely backdrop as you spend time together. Alternatively, take advantage of Clearwater's pristine beaches to soak up some sun and create lasting memories.
Virtual Activities for Long-Distance Celebrations
For those unable to celebrate in person due to geographic constraints, plenty of virtual activities are available to help you connect with your veteran family member. Host a virtual family game or trivia night featuring military-themed questions to create a fun and educational experience for everyone. Alternatively, you could organize a virtual watch party to enjoy a military-themed movie or documentary, fostering a sense of togetherness even from afar.
Sending your veteran family member a care package can also be an incredibly heartfelt gesture. Include items from their hometown or favorite local businesses to remind them of their roots and the community that supports them. Sharing stories and memories of your family member's military service through video chat or a shared online photo album can evoke a sense of nostalgia and strengthen your bond.
Start Your Journey With Senior Helpers Clearwater Today
Military Appreciation Month offers an invaluable opportunity to honor the veterans among our adult children and in-laws. Whether you can celebrate together in the Clearwater area or connect over long distances, what's important is to show your love and appreciation for their service. And if you or a loved one need personalized senior care in the Clearwater, Dunedin, Safety Harbor, Pinellas Park, Largo, or Clearwater Beaches area, contact Senior Helpers Clearwater for compassionate and professional care.