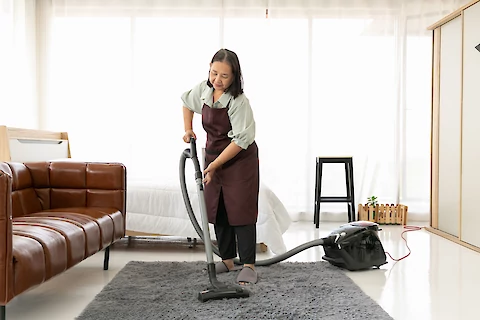 Spring cleaning is an annual ritual that 3 out of 4 Americans do each year. But as your parents journey through their retirement, what was once a casual and easy task might now be challenging. If you're worried about your parents' health and well-being when it comes to housekeeping and daily chores, hiring in-home support can help. However, some seniors are resistant to the idea. Senior Helpers Broward County can help with your elderly parents' spring cleaning projects in the best, safest, and most respectful way possible.
Benefits of Hiring Help for Seniors' Spring Cleaning Projects
Working with a reputable cleaning or in-home care company ensures that cleaning projects get completed quickly and safely. Hiring outside help to tackle tricky tasks can also give families and seniors peace of mind. This way, the senior can relax and take it easy, avoiding potential slips, falls, and other injuries.
When Should You Hire Housekeeping Help For Your Parents?
Perhaps your parent always kept a tidy kitchen but you've noticed piles of dishes in the sink or expired food in the fridge lately. Maybe your parents prided themselves on a well-kept front yard, but it's become overgrown with weeds. These are all potential red flags that your parent might need some help. 
How to Talk to Your Parents About Hiring Help: Act Early and Don't Wait
Nothing is more important than communication when it comes to senior care. Discuss with your parents the possibility of hiring help. Start the conversation early. Don't wait until the situation becomes dire.
Do It at the Right Time and in the Right Place
The time and place for the conversation are key. Don't bring up the topic when you both are stressed. Help them see that hiring help is a benefit and not a consequence. For example, don't bring up the idea of in-home support after arguing with them about the state of their home. Additionally, discuss how it's in-home care to maintain their autonomy. It's not a decision that leads to being placed in a seniors' home.
Be Respectful Yet Clear
Be respectful yet clear when talking about hiring help for your elderly parents' spring cleaning. Listen to their concerns and emphasize that this isn't taking away their independence. Rather, it's about helping them maintain their independence. Be upfront about how much support you can personally give them. For instance, you might explain that hiring in-home help is critical because you can't always help your parents with everything.
Senior Helpers Broward County Offers Personalized In-Home Care
It's crucial to check if your elderly parents' spring cleaning needs an extra pair of hands. Senior Helpers Broward County's in-home care offers personalized services tailored to your seniors' specific needs, including help with housekeeping and errands. Help your loved ones live the life they want with the support of our licensed and trained professional caregivers. Contact Senior Helpers Broward County today to learn about how we can help seniors throughout Hollywood, Fort Lauderdale, and Broward County, FL.