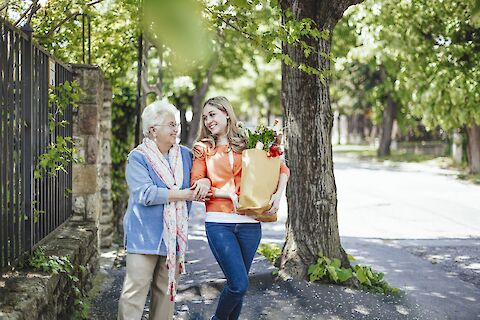 Did you know that about a third of all yearly giving happens in December? It comes as no surprise that the 12th month is the US National Giving Month. Generosity comes in many forms, and spending time and effort bringing good cheer to senior citizens in the local community is a commendable way of expressing this.
There are numerous senior-based recreation centers, organizations, and housing facilities in Fort Lauderdale, Hollywood (Florida), and Broward County where your support will be highly appreciated. Below are a few meaningful ways to help out senior recreation centers during the holidays.
1. Help Prepare Food
A good way of showing your support to the local senior centers, like Tamarac Senior Center in South Florida, is by helping out with kitchen duties. You can assist in the preparation of weekly meals by helping cook food, wiping tables, or cleaning dishes. You're helping seniors in your community live healthy lives by giving them access to well-cooked, nutritious meals.
2. Get Behind the Wheel
There are usually a lot of activities happening behind the scenes at your South Florida senior recreation centers. There are groceries and market produce needed by the kitchen department, donations that need to be picked from distribution centers, and seniors to be driven to and from hospital appointments.
If you're a competent driver with a valid driver's license, why not offer to help with some of these driving roles? A few minutes of your time will play a big role in easing some of the professional caregivers' workloads while also showing seniors that they remain remembered and loved in their communities. 
3. Caregiving and Running Errands
Taking care of seniors is a full-time responsibility. While senior recreation centers like Broward Adult Day Care Center have trained, professional staff on-site, it doesn't mean that your help with everyday activities won't be welcomed. With guidance from staff members, you may help feed seniors, assist with grooming, accompany the elderly on walks, or even remind them when to take their medication.
Furthermore, with all the commitments and tasks that come with the festive season, the senior-based centers may slowly find themselves getting overwhelmed. Adult volunteers can help ease this burden by carrying out light tasks such as folding laundry, dusting, or organizing cluttered shelves. 
4. Decorating for the Holidays
Helping your South Florida seniors with their day-to-day needs is commendable. In addition to ensuring their daily physical requirements are met, going out of your way to brighten up their days is another excellent way to support senior centers. Decorating these recreation centers and facilities is a direct, inexpensive way of achieving this.
You wouldn't let your grandma go up a ladder to put the cherub atop the Christmas tree, would you? In the same spirit, helping out with decorations during holidays is a way of using your stronger, more youthful frame to lift the mood at your local senior center. It can also present an opportunity to display some of the seniors' craft pieces. 
Contact Senior Helpers Today
A lot of happenings come with the holidays. Sometimes, an extra hand is needed, especially if you're caring for a senior citizen. Senior Helpers offers premiere in-home caregiving services such as assistance with daily activities, companionship, and providing specialized care for people living with chronic illnesses, among others.
If you live in Fort Lauderdale, Florida, or any locale within Broward County, contact us today for more information about our services.