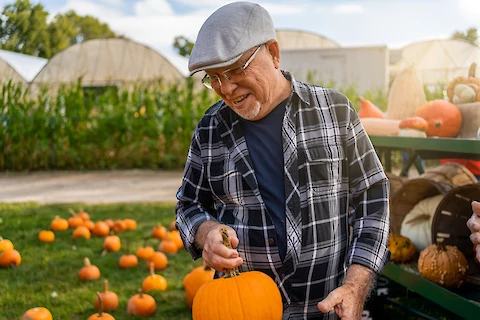 The festive autumn period is rife with vibrant colors, fresh produce, and unique events that can enhance the lives of our senior loved ones. At Senior Helpers Broward County, we understand the importance of engaging seniors in seasonal activities that foster physical health, stimulate cognitive abilities, and create lasting memories. 
We have what you need to know about making the most of the fall season with seniors. We will explore both indoor and outdoor activities tailored for seniors, and we'll offer advice on incorporating seasonal produce into their meals for maximum nutritional benefits.
The Importance of Engaging Seniors in Fall Harvest Activities
Engaging in seasonal activities isn't just fun—it's also beneficial for seniors. Such activities can stimulate cognitive abilities, promoting better mental health. They also foster physical engagement which is crucial for maintaining optimum health in older age. Additionally, these activities can create beautiful, memorable experiences that seniors and their loved ones can fondly look back on.
Outdoor Fall Harvest Activities for Seniors
The fall harvest season presents numerous outdoor activities that seniors can partake in. Visiting a local farm or farmer's market can be an enjoyable experience that also enables seniors to interact with their community. 
Participating in local harvest festivals is another delightful way to celebrate the season. Alternatively, a simple stroll to enjoy the fall foliage can be equally satisfying. Whichever activity you choose, it's important to ensure it aligns with the senior's physical capabilities and interests for a truly beneficial experience.
Indoor Fall Harvest Activities for Seniors
There's plenty of fall-themed enjoyment to be had indoors as well. Cooking with seasonal produce can be both a creative and sensory experience that seniors will love. Engaging in fall-themed crafts or even organizing a harvest-themed game night can bring both fun and cognitive stimulation.
Incorporating Fall Harvest Produce Into Senior Meal Plans
The fall harvest season brings an array of nutritious, flavorful produce. These can be an excellent addition to seniors' meal plans. Pumpkin, squash, apples, sweet potatoes, and a variety of leafy greens are not just delicious—they are also loaded with essential nutrients ideal for seniors. Think of heartwarming soups, hearty salads, and wholesome pies that are not just easy to eat but are also nutritious and suited to the dietary needs of seniors. 
Discover New Routines With Senior Helpers
The fall harvest season provides an invaluable opportunity to engage seniors in activities that enrich their lives both physically and mentally. Whether it's a simple walk amid the vibrant fall foliage, a visit to a farmer's market, a cozy indoor crafting session, or a delightful meal made with seasonal produce, the possibilities are endless. 
At Senior Helpers Broward County, we are committed to helping you make this season memorable and healthy for your senior loved ones. For those residing in Hollywood, Fort Lauderdale, and Broward County, we invite you to explore our range of senior care services. Contact us to learn more about how we can help you!