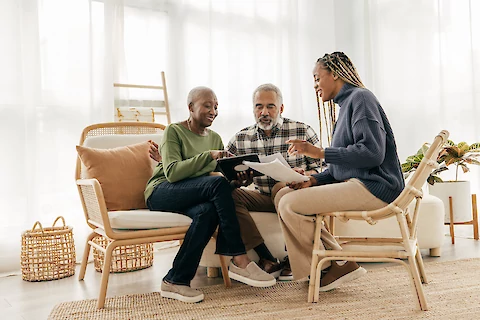 As a family, it's so important to create boundaries when caring for multiple elderly relatives at once. Whether you live in Newark, Wilmington, Bear, or New Castle County, Senior Helpers Northern Delaware is here to help you figure out how to do this in a healthy and effective way. In this blog post, we'll discuss why setting boundaries is essential, how to do it, and how to build a support system so that you can easily navigate the caregiving experience.
Why Setting Boundaries Is Important
Caregiving can be a gratifying experience, but it can also be overwhelming. Setting boundaries is a crucial way to maintain balance and ensure that everyone involved is feeling their best. Here are a few reasons why setting boundaries is so important:
Setting boundaries is an effective way to avoid feeling overwhelmed and exhausted, which can take a toll on your physical and mental health.
Setting boundaries can also help you focus on other responsibilities, like work and family. This will give you a sense of balance and allow you to live a more fulfilling life.
Caregiving can be incredibly stressful and isolating at times. Setting boundaries can help protect you from the emotional toll of caregiving.
How To Set Boundaries
Although setting boundaries can be difficult, it will ultimately help you and your family manage the caregiving process. Here are a few tips on how to do this:
Set boundaries for how much time and energy each family member can dedicate to caregiving. One of the best ways to set boundaries is to have an honest conversation about how much time each family member can realistically commit. This will ensure that each person is not overburdened and can still enjoy other aspects of life.
Talk about how to handle difficult situations and disagreements. Talk about how to handle complex problems that may arise during caregiving, as well as how to resolve conflicts. Having these guidelines in place beforehand will make it easier to navigate these situations when they come up.
Determine who has the final say when it comes to making decisions. When making decisions about care for elderly relatives, determine who has the final say. This will help ensure everyone's opinions are respected, and that the best decisions are made for all involved.
Building Support Through Boundaries
As a family, you need to find ways to build a support system so that everyone is as well-cared for as the elderly relatives they are caring for. Taking care of your physical and mental health is essential to provide quality care to those you love. This means making time for yourself, even if it feels selfish.
You can do this by reaching out to friends, family members, and professionals for help and support. A support system will help alleviate some of the stress and help you tackle challenges together. Caring for multiple elderly relatives at once can be overwhelming, but it can also be an excellent opportunity to connect as a family. Finding ways to support each other during this time can help to strengthen family bonds and create long-lasting relationships.
Looking For More Support While Caring For Seniors?
At Senior Helpers Northern Delaware, we understand the importance of setting boundaries when caring for multiple elderly relatives at once. We provide in-home senior care services in Newark, Wilmington, Bear, and New Castle County for families caring for their senior loved ones. If you need help setting boundaries or building a support system, please reach out to us today!