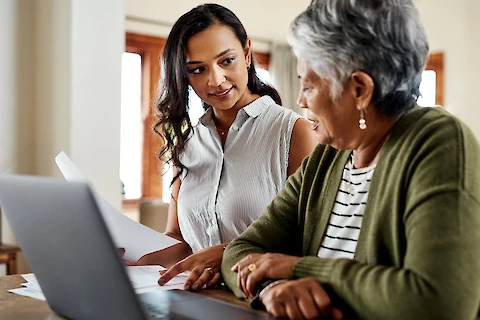 Conversations about living wills and powers of attorney are never easy. Talking with a senior loved one about their needs if they become physically or mentally incapable of making decisions on their own can be uncomfortable and overwhelming. However, it is also vitally important to ensure that their wishes are taken into account.
Below is a guide on how to have effective conversations about living wills and power of attorney with seniors.
What is a Living Will?
A living will is a legal document in which seniors express their wishes regarding medical treatment should they become incapacitated or unable to make health care decisions for themselves. This document helps spell out what type of medical procedures the person does, and does not want in certain situations, such as terminal illness or coma.
What is a Power of Attorney?
Power of attorney is a document allowing a person to take control of another's finances and make decisions about them. This can include signing tax returns if the other person becomes incapable or unable to do so. This document helps ensure that someone reliable has access and control over seniors' financial matters should they ever become incapacitated.
Discussing a Living Will
Before discussing a living will with senior loved ones, it is important to be well-prepared. Consider in advance the medical issues that they may have and what their wishes would likely be regarding those issues.
You also want to familiarize yourself with all of the legal terminology associated with these documents. This way, you can properly explain it to them. Encourage seniors to think about the types of treatments and procedures they might want or not want in certain situations.
You should also discuss end-of-life plans such as whether organ donation would be an option for them, as well as burial arrangements. This can be a difficult discussion, so show compassion and listen to what they have to say.
Discussing Power of Attorney
Similar to discussing a living will, you must also understand when you or a senior loved one might need a power of attorney. Seniors need to decide if this person should be a family member or friend that they know and trust. The power of attorney can also name a formal legal representative such as a lawyer experienced in estate planning.
Discuss the situation openly with seniors so that they can make their own decision about who would represent them. Ask them to think of someone reliable and trustworthy who will know how to handle their financial affairs and carry out all necessary steps on their behalf.
Senior Helpers Northern Delaware's Assistance Can Help a Senior Remain at Home
Living wills and powers of attorney are essential documents for a senior loved one to have in place. Nevertheless, conversations about living wills can be difficult. It requires you to think about the future when your senior family member may no longer be here with you.
While Senior Helpers Northern Delaware can't have this talk for you, we can offer assistance with many daily activities to help your senior parent remain at home in Newark, Wilmington, Bear, or New Castle County. Contact us today to learn more.