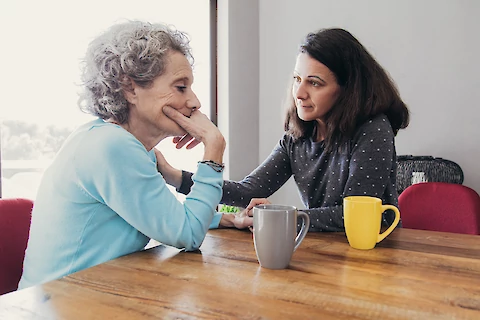 More than40 million people in the United States serve as unpaid caregivers to an adult over the age of 65 — often to a parent. For some, this is a wonderful opportunity to spend more time with an aging relative. For others, consistent senior care can become overwhelming. The task of caregiving while juggling their own careers, relationships, and responsibilities can lead to caregiver burnout.
What Is Caregiver Burnout?
TheAmerican Heart Association explains that caregiver burnout is brought on "...by too much long-term stress," whileCleveland Clinic says it's "...a state of physical, emotional and mental exhaustion." It's different in every situation, but the stress of caregiving can add up in a variety of ways, including:
●     Guilt: Caregivers may have to take time away from their own children, partners, and friends to care for their loved one. They may feel like they're missing out on activities and special moments. Then they feel even more guilty for wishing they didn't have to be a caregiver.
●     Demands: Sometimes, caregivers expect a lot from themselves, even when they're not trained medical professionals. The person being cared for can also place difficult demands on the caregiver.
●     Relationship Issues: Many caregivers are caring for a relative, which means there was already a relationship in place before they took on the caregiving role. If that relationship was a difficult one, it may remain difficult (or even get more challenging) in the caregiving situation.
●     Helplessness: Caregivers may be frustrated because they aren't able to provide the type of help the senior really needs.
Symptoms of Caregiver Burnout
Symptoms can vary from person to person. But if it's not recognized and addressed, caregiver burnout can lead to depression, substance abuse, and health issues. According to Cleveland Clinic, symptoms may include:
●     Feelings of helplessness, guilt, frustration, or anger
●     Irritability
●     Fatigue
●     Anxiety
●     Weight loss or weight gain
●     Changes in sleeping habits
●     Changes in diet
●     Increased alcohol consumption
●     Loss of interest in activities
●     Withdrawal from friends and family
●     Poor physical health
How to Prevent Caregiver Burnout
The first step is recognizing that you may be at risk. Caregiving is a challenging job for even the most patient and loving people. It's not easy to take on such a large, important role while keeping up with the other responsibilities in your life.
AARP suggests taking care of your health. Visit your doctor, especially if you're noticing any changes in yourself, physically or mentally. Eat a healthy diet, get plenty of sleep, exercise, and take time for yourself.
Also, you can enlist help. Join a support group, which will connect you with people who have experienced the same challenges. Ask other family members to take a shift occasionally so you can see a movie, go on a hike, or go out to dinner with a friend.
You can also enlist professional help for some or all of the caregiving duties. Senior Helpers in Christiana offers a variety of in-home senior companionship services so your senior can age in place. Userespite care for a well-deserved break, or get around-the-clock care. Our caregivers are thoroughly trained and come from a variety of backgrounds — many of them are nursing, pre-med, and pre-PA students.
Caregiving is rewarding, but you don't have to do it alone! It's okay to take some time for yourself.Contact us to learn more about our age in place senior companionship services in Christiana and the surrounding area.